Photo-Etched Accessories
for 1/48 scale Military Vehicles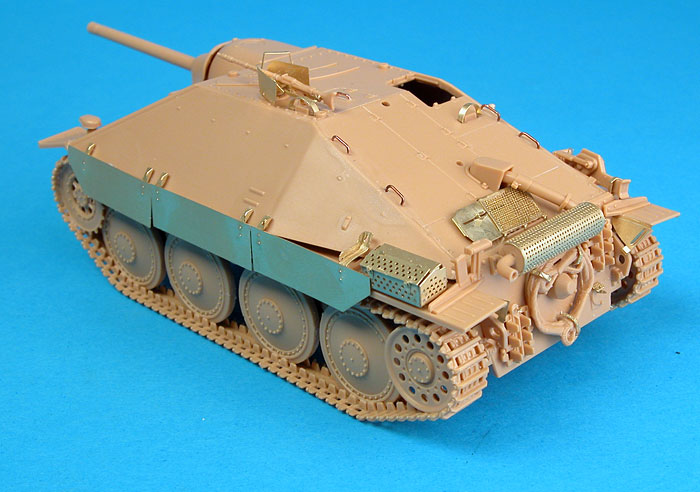 Hauler
S u m m a r y

Catalogue Number, Description and Price:

| | | |
| --- | --- | --- |
| | | |
| Catalogue No. | Detail Set Subject | Export Price |
| | | |
| HLX48001 | M4 Sherman | 8.70 EUR |
| HLX48002 | M4 Sherman fenders | 8.70 EUR |
| HLX48003 | Stug.III.ausf.B | 8.70 EUR |
| HLX48004 | Stug.III ausf.B- grills | 3.60 EUR |
| HLX48005 | Stug.III.ausf.B-fenders | 6.00 EUR |
| HLX48006 | 0,5cal.Browning | 3.60 EUR |
| HLX48007 | TIGER I ausf.E | 9.30 EUR |
| HLX48008 | TIGER I grills | 3.90 EUR |
| HLX48009 | Schwimmwagen | 7.20 EUR |
| HLX48010 | Kubelwagen | 7.20 EUR |
| HLX48011 | Kettenkraftrad | 6.00 EUR |
| HLX48012 | TIGER I ausf.E fenders | 8.70 EUR |
| HLX48013 | Marston mattings | 6.60 EUR |
| HLX48014 | Antitank barrier | 6.60 EUR |
| HLX48015 | Buckets | 3.90 EUR |
| HLX48016 | Tools | 6.00 EUR |
| HLX48017 | Grills and manholes | 4.80 EUR |
| HLX48018 | Chains | 6.00 EUR |
| HLX48019 | Hetzer | 8.70 EUR |

Scale:
1/48
Review Type:
FirstLook and QuickBuild
Advantages:
Genuine improvement in detail for Tamiya's 1/48 scale military vehicle kits; good range; broken down to permit specific enhancements (ie grilles and fenders available as separate sets); excellent detail; well illustrated instructions.
Disadvantages:
Experience with photo-etched parts will be helpful
Recommendation:
Highly Recommended
Reviewed (& Hetzer Construction) by Brett Green


HyperScale is proudly supported by Squadron.com
Although a few model companies have made the foray into 1/48 scale military vehicle in the past, Tamiya now seems determined to move this scale into the military mainstream.
Not only is the scale out of the ordinary, but Tamiya's philosophy seems to be a departure from the current approach. Many military models are gathering more bells and whistles - and stratospheric parts counts - with each successive release. It is not at all uncommon for a new 1/35 scale vehicle from Dragon, for example, to have more than 1,000 parts in plastic, stainless steel, photo-etched metal, vinyl and acetate.
This might be nirvana for the experienced modeller with a lot of time on his hands, but even experts enjoy a quick build from time to time. The new breed of Über Kits might also be potentially off-putting to new modellers.
Tamiya's 1/48 scale vehicles offer a simpler alternative - appealing subjects that are easy and quick to build, yet accurate and quite nicely detailed straight from the box. The kits are 100% styrene, with clever link and length tracks included for applicable vehicles. The compact size of 1/48 scale vehicles is another point in their favor.
But what about a middle road? What about using the basic Tamiya kits as a basis for a more detailed modelling project without necessarily resorting to all-out multi-media insanity?
Hauler is a new company based in the Czech Republic that offers a selection of photo-etched detail parts for all of Tamiya's 1/48 scale vehicles, plus a few related general accessory sets.
The selection sent for review included the following:
| | | |
| --- | --- | --- |
| Catalogue No. | Detail Set Subject | Export Price |
| | | |
| HLX48001 | M4 Sherman | 8.70 EUR |
| HLX48002 | M4 Sherman fenders | 8.70 EUR |
| HLX48003 | Stug.III.ausf.B | 8.70 EUR |
| HLX48007 | TIGER I ausf.E | 9.30 EUR |
| HLX48008 | TIGER I grills | 3.90 EUR |
| HLX48009 | Schwimmwagen | 7.20 EUR |
| HLX48010 | Kubelwagen | 7.20 EUR |
| HLX48011 | Kettenkraftrad | 6.00 EUR |
| HLX48012 | TIGER I ausf.E fenders | 8.70 EUR |
| HLX48013 | Marston mattings | 6.60 EUR |
| HLX48014 | Antitank barrier | 6.60 EUR |
| HLX48015 | Buckets | 3.90 EUR |
| HLX48016 | Tools | 6.00 EUR |
| HLX48017 | Grills and manholes | 4.80 EUR |
| HLX48018 | Chains | 6.00 EUR |
| HLX48019 | Hetzer | 8.70 EUR |

In addition to the sets noted in the table above, they have a number of smaller, more specific releases. For example, the grilles included in the Tiger and StuG sets are offered separately, so if you only want to address this area of the kit you will not have the unnecessary expense of the extra photo-etched parts.
All the sets are presented in soft but crisply defined photo-etched brass with well illustrated instructions.
---

Test-Build - Set HLX48019 Hetzer
The proof of the pudding is in the eating. It does not matter how sweet a photo-etched fret looks behind the cellophane. What counts is how it works on the model.
Tamiya's 1/48 scale Hetzer turned up in Australian shops last week. This was all the encouragement I needed to take my Hauler photo-etch for a test drive.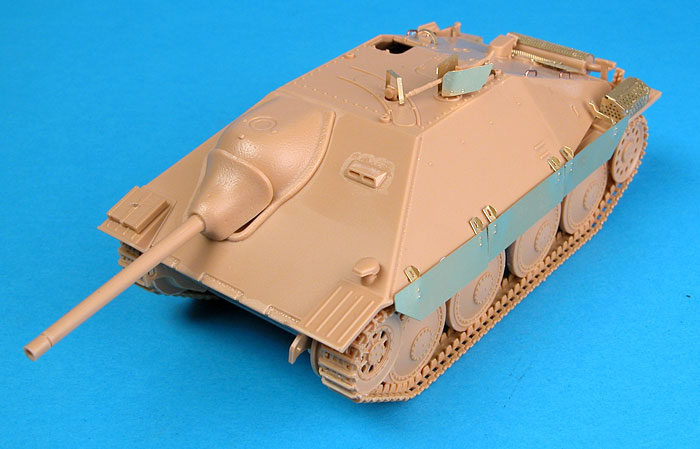 The Hetzer presents some particular challenges for an all-injection kit. The real vehicle featured thin skirting and machine gun shield, perforated toolbox and exhaust heat shield, fine handholds. All of these detail areas are somewhat compromised on Tamiya's kit.
Hauler's Hetzer photo-etch set represents especially good value, as it includes the Schurzen, grilles, the distinctive perforated toolbox, a lovely, delicately detailed mount and guard for the remote control machine gun, the exhaust heat shield plus various tool shackles, straps and hand holds.
At first I thought that I would simply demonstrate the tool box, grille and exhaust, but the kit itself and the remaining photo-etched parts were just too tempting.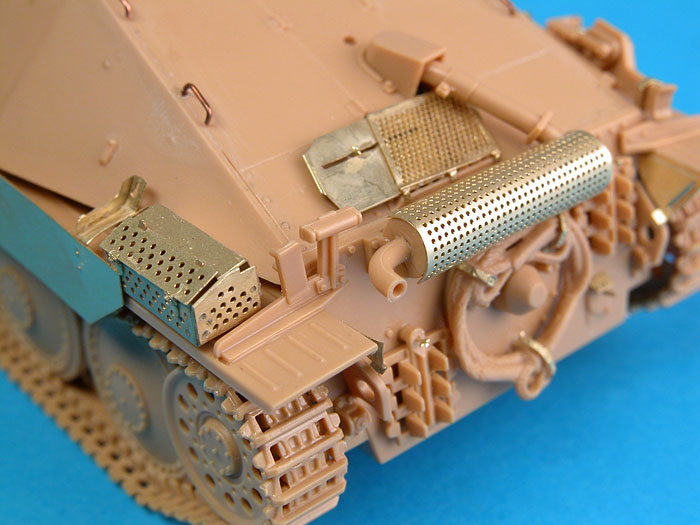 The photo-etched metal was quite easy to cut from the frame, tidy up and fold into place. There is not too much origami demanded by this set, but some of the smaller parts that make up the machine gun mount do require care. Several butterfly nuts are absolutely tiny - I drilled fine pilot holes before gluing them in place.
I did not use all of the parts. For example, I substituted fine copper wire for the rear deck handholds, and I did not replace the straps on the jack block. Most of the other parts were used though.
At first, I was a little intimidated by the side skirts but I was pleasantly surprised at how easily the mounts were formed. My only word of caution is that the instructions seem to label the part numbers incorrectly. Check your references before gluing the mounts to the inside of the skirts.
By the way, in case you are wondering why some of the mounts are not touching the superstructure, the skirts are temporarily attached to the model using Blu-Tack!
There is no doubt that Hauler has astutely assessed the most important areas where additional finesse is required on Tamiya's little Hetzer. This set is neither outrageously expensive nor unnecessarily complicated, and it really adds a great deal to an already fine kit.
I really like the philosophy behind Tamiya's new range of 1/48 scale vehicles and, even more importantly, I like the plastic in the boxes just as much.
Hauler seems to feel the same way. Their new range of 1/48 scale photo-etched parts and accessories will lift these simple models into a new class.
Highly Recommended.
Thanks to Jan from Hauler for the review samples.
---
Hauler 1/48 scale photo-etched accessories are available online from their website
Hauler has supplied a Gallery of photos of their sets below. Click the thumbnails to view full size:
---
Review plus Title and Body Images Copyright © 2005 by Brett Green
Gallery Images Copyright © 2005 by Hauler
Page Created 17 May, 2005
Last updated 17 May, 2005
Back to HyperScale Main Page