Mk.V "Composite" WWI British Tank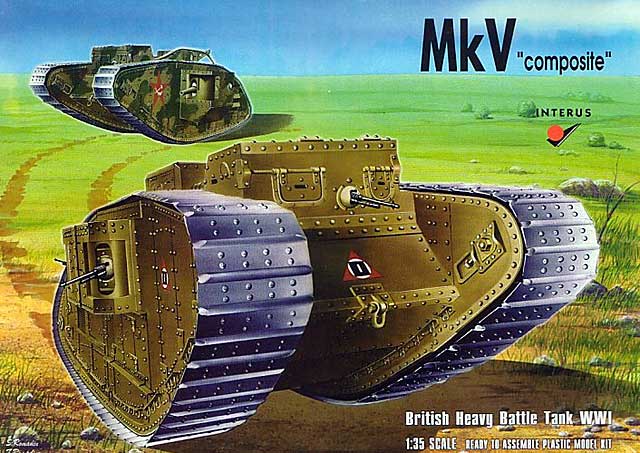 Interus 1/35
S u m m a r y

Catalogue Number:
Interus 1/35 Scale Mk.V "composite" WWI British Tank Kit #3501
Scale:
1/35
Contents and Media:
See text below
Price:
AUD$37 from NKR Models
Review Type:
FirstLook
Advantages:
Good detail, no "rubber band" tracks, varied choice of markings.
Disadvantages:
Minor repair work needed to some parts.
Recommendation:
Recommended
Reviewed by Robert Baumgartner


HyperScale is proudly sponsored by Squadron.com
When the British Mark V tank was pressed into service, it was clear that it was a major improvement on the previous Mark IV. With a new Wilson epicycle gearbox and brake system it was now possible for just one man to steer the tank. An engine designed by Harry Ricardo specifically for tank use, enabled the Mk.V to be more reliable and increase its speed to nearly 5 mph, quite an achievement back then!
The tank was heavier than its predecessors thanks to an increase in armour from 12 to 14mm. It still retained its 8-man crew and at about 30 tons, its performance was only going to allow it a range of 45 miles with the 100-gallon fuel load.

The Mk.V was unleashed into combat on the 4 July 1918 during an attack on the village of Hamel in France. In the various battles that it found itself in during the war, the Mk.V performed extremely well.

This was not to be the end of its fighting days as the anti-Bolshevist forces used the tank during the Russian Civil War. Inevitably the Red army captured some of these tanks and used them against their former owners.
The Mk.V continued to be used by the armoured forces of the Soviet Republic and the USSR until the early thirties when they were finally retired.
Interus is a new company to me and it was with some excitement that I opened the large and heavy box. Inside were three individually bagged sprues of green coloured plastic, an A4 sized 14-page instruction book, and a generous decal sheet.
The kit represents the "composite" version meaning it was armed with both a cannon and machine guns. With approximately 400 parts, it will certainly not be an overnight build.
Click the thumbnails below to view larger images:
---
The first thing one notices is the quality of the plastic. It is quite brittle so care will be needed when removing the parts.
Detail is good and is certainly sharper than that seen on some other injection moulded WWI tanks in this scale.
It was pleasing to see that no ejection pins were found on any external plate surfaces. However, there were some inevitable shallow sink marks that resulted from these pins appearing on the opposite side of the part. A quick smear of putty is all that is needed to eradicate these.

Construction is unusual in that the main structure is built around a central spine. It is critical to make sure that this is perpendicular to the base to allow correct alignment of the surrounding plates.
Wisely, Interus has beveled the edges of certain parts in the kit. This is so that the rivet detail that is found near the extremities can be properly portrayed after joining the parts together. These edges suffer a bit from being irregular due to flash and shrinkage near the sprue attachment points. Thus a quick swipe with a sanding stick is needed to create a straight boundary.

Five Hotchkiss machine guns are supplied but unfortunately some of these are short moulded. Not a major problem as a small piece of rod will fix this. Close inspection will reveal a couple of other pieces that will need minor repairs but nothing beyond the scope of most modellers.

If you choose to open the hatches, the supplied seats will require added interior detail around them. Also note that the hatches will need thinning and the reinstatement of the appropriate detail.

Link and length track are supplied and these are certainly better than the "rubber band" types we have seen on other WWI tanks. They have good detail on the outside but will need some scribing on the inner surfaces to represent the join of the individual links.

Those looking for either an unditching beam or a crib will have to search elsewhere.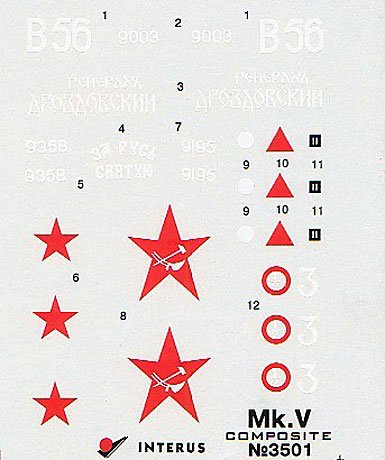 These are very well printed and it is only with careful scrutiny that one sees the carrier film! They have a matt appearance and cover seven different and varied options. Sensibly, multicolored insignia are reproduced as separate parts of a single colour. Thus no registration problems can occur here.
To quote options from the instructions:
B-battalion. In the vicinity of the village of Hamel, France. March 4, 1918 (Overall olive drab with white/red/white stripe)

Armed forces of the South of Russia. Donets Basin, Ukraine. Summer, 1919. (Overall olive drab with white/red/white stripe and white slogan)

Third tank troop of the 1st tank squadron. General P.N. Vrangel's Russian Army. The area of the beachhead of Kakhovka, Ukraine. October 1920. (Overall olive drab with white/red/white stripe)

Red Army. Caucasian Front, Russia. 1920. (Overall olive drab with red star)

Armoured forces of the Workers and Peasants Red Army. Combat vehicle and auto repair plant. Moscow, Russia. 1924. (Light and dark green camouflage with white motif on large red star)

On exercise. The area of Naro-Fominsk, Russia. (Overall light green with triangular insignia)

Combat vehicle from a military display crew of the armoured forces of the Workers and Peasants Red Army. Moscow, Red Square. November 7 1929. (Overall dark green with numerals)
This is a pleasing effort from Interus and should build into a good replica of an important subject. It is not a recent release but it has taken a while for the kit to reach our shores from the Ukraine.
The wealth of parts will mean care needs to be taken at each stage of the build. The type of plastic used will guarantee some additional repairs but all this is easy enough.
Is it accurate? That depends on which plans you believe, but it looks very close when compared to photos.
I'll certainly look forward to assembling mine in the coming months!

Recommended

---
Thanks to Interus and NKR Models for the review sample.
---
Review and Images Copyright © 2003 by Robert Baumgartner
Page Created 09 August, 2003
Last updated 15 August, 2003
Back to HyperScale Main Page
Back to Reviews Page