Pz.Kpfw. I Ausf. B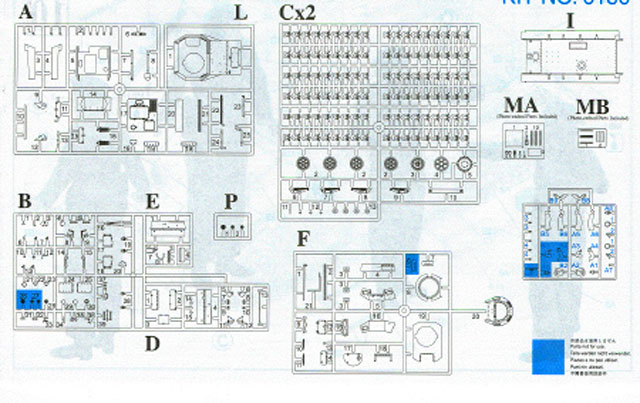 Dragon/DML
S u m m a r y

Stock Number, Media, Contents and Price:
Dragon Models Limited 1/35 Scale '39-'45 Series Kit No. 6186; Pz.Kpfw. I Ausf. B; 444 parts (414 in grey styrene, 20 etched brass, 7 etched stainless steel, 3 clear styrene); price estimated at $24-28
Scale:
1/35
Review Type:
First Look
Advantages:
Very nicely done kit, separate hatches at all openings, several different options permit a dead match for specific vehicles, choice of styrene or etched brass parts
Disadvantages:
Very tiny individual track links will not be popular with some modelers
Recommendation:
Highly Recommended for all light armor, early WWII and German armor fans
Reviewed by Cookie Sewell


HyperScale is proudly supported by Squadron.com

Too many German armor fans tend to ignore the fact that the Tiger and Panther tanks did not spring from the earth cut from whole cloth; rather, they were the penultimate designs that saw production based on nearly a decade of open research and another decade of covert research that went before them. The tiny Panzerkampfwagen I series, which was never intended to be used in combat, was the progenitor of all those that followed it.

The German army was only starting to understand the value of tanks and design useful vehicles when the termination of World War I, and the crushing impositions of the Treaty of Versailles, prevented them from any open research in this area. As a result, the Germans entered into a period of covert research in Sweden and their former enemy, Russia, who as the fledgling USSR was seen as useful for testing projected weapons systems away from prying Western eyes.

After developmental and research work throughout the 1920s, after the Nazis came to power in 1933 the first prototype chassis of a new light tank, to be built essentially for proof of concept training of a new tank force – "Panzerwaffe" – emerged in the form of 150 "Agricultural tractors" produced by a consortium of German companies.

The "tractor" had an armored hull and a four-road-wheel per side spring suspension mounted low on the outside of the hull, much of it borrowed from German observations of British Carden-Loyd designs. It was not until 1934 that the "tractors" began to be produced with a small one-man turret mounting two machine guns on top of an armored casemate protecting the driver. The original tanks were first dubbed MG Panzerwagen but were quickly standardized as Panzerkampwagen I Ausfuerung A." 1,175 of this model were produced.

Later, as service showed up the shortcomings of the little tank, modifications were made. The first main one was adding a fifth road wheel per side to improve cross-country mobility and the ride, as well as a more powerful engine. 397 of these tanks, known as the Pz. Kpfw. I Ausf. B, were built in 1936-37.

But while the Germans knew full well these tiny tanks (the Ausf. B only weighed 5.8 short tons and had 13mm armor plate) were not what they had in mind for future combat, they did realize that war is a game of "run what you brung" and the tanks were used in the move into the Sudetenland, the Anschluss in 1938, and the battles of 1939-1940. By the time the Germans went into Russia, only 74 Pz.Kpfw. I tanks of all models were still listed as tanks in service.

The hulls were converted to other purposes, such as ammunition carriers, observation vehicles, and self-propelled guns. But all WWII German armor tactics originated with the use of these tiny tanks on exercise.

Surprisingly, unlike many early war or transitional armored vehicles (such as the British Light Mark VI series) this mini-tank has been better served. Italeri produced a good kit of it for its time back in the 1970s, and a more recent one has presented the earlier (and more numerous) Ausf. A version. DML has now released a very nice new kit of this old favorite that is state-of-the art, and provides for a large number of "tweaks" and options to build it.

The kit contains a total of nine plastic sprues, and since the upper hull is unto itself (sprue L) it would signify that at least one SP gun or the command variant will follow. The model also includes a set of etched brass (the now standard DML "MA" fret) as well as half of kit number 6029, the early German StuG III crew, with two figures and three heads – two with the "crash helmet" floppy berets and one with sidecap. The etched stainless steel fret is the headset headband component from that kit.

Molding is top-notch, and the kit comes with every port or door that can be opened provided as separate parts. Most have some detail, but there are a number of injection pin marks that have to be filled. There are a number of options for the kit as well, and an addendum sheet was included with the review sample for the upper left part of Step 6, as it calls out which parts can be alternated and with what other parts. The model comes with two styles of viewports riveted or smooth) and two different rear plates – one for the original version and one with the mounts for the smoke candle rack (included).

The kit includes 216 single track links, which are not going to be popular with some modelers as they are very, very small – each one is about 3 mm x 7 mm. If you do not have a fine sprue nipper or keyhole type razor saw, getting these off the sprues will be difficult. I recommend the following procedure. Before cutting them off the sprue, cut open the end bars of the sprue to take the tension off the parts. This way, as you trim the parts, they are not compressed upon themselves but instead come free. You wind up with fewer broken and damaged parts this way. Also, they do have a pin-and-notch system for assembly, at least, so assembly should be much easier than you would think once you have them off the sprue.

Most of the etched brass parts deal with the rear of the hull and are used with the smoke candles. This isn't so bad, as there are also some options where brass parts can be used to replace styrene ones, which is one of the best ideas that DML has come up with in a long time.

The model offers a total of six different marking schemes, but all of the ones provided are only in the Panzergrau paint scheme. The are for: 7th Panzer Division, France 1940; 4th Panzer Division, France 1940; 1st Panzer Division, Poland, 1939; Panzerabteilung zbV 40, Denmark, 1940; 14th Panzer Division, 1941; and 3rd Panzer Division, 1940. None of them are in the recently discovered (by Tom Jentz and Steve Zaloga) multicolored schemes, but these can be found with a bit of research and also some extra markings from companies like Archer Fine Transfers.

Overall this is one of the nicest efforts so far from DML, and is at least as nice as their recent early model T-34s.
Highly Recommended.
Thanks to Freddie Leung of DML for the review sample.

---
Review Text Copyright © 2004 by Cookie Sewell
Page Created 13 June, 2004
Last updated 13 June, 2004
Back to HyperScale Main Page
Back to Reviews Page