S u m m a r y

Title:
303rd Bomb Group
Media:
DVD
Price:
USD$29.00 available online from Wade Meyers Studios
Review Type:
FirstLook
Advantages:
Great colour and b/w coverage of the B-17 in action; great inspiration for modellers.
Disadvantages:
Recommendation:
Highly Recommended
Reviewed by Floyd S. Werner Jr.
HyperScale is proudly supported by Squadron.com
B-17 Flying Fortress. The very name evokes images from the "Memphis Belle" and "12 O'clock High", but guess what? Just when you thought there couldn't possibly be more new stuff, there is. Victory Films presents the "303rd Bomb Group". This group was one of the first groups in the fledgling 8th Air Force and continued until the end of hostilities.

To start the DVD you are treated to full color B-17Fs in the United States. The first part of this video is a video diary with completely new (to me at least) footage of the 303rd forming up. This appears to be an unofficial diary from Lt John Castle and takes you from picking up the factory fresh aircraft through deployment to England. Features include nose art and graffiti around every turret and some engines. I've never seen each engine named after a woman. I thought it a nice touch. The difference in the paint colors and the fading even on the new aircraft will be invaluable to the modeler. You are treated to new aircraft, new uniforms and ever so young crewmembers. Some of the noted aircraft include Knockout Dropper, more on her later. Once in England you will notice the camouflage on the buildings and the support vehicles. Come on Tamiya, daddy needs a new jeep and Deuce and a half in 1/48th. Speaking of 1/48th, you will see the tractor from the Monogram B-24 kit shown in action. There are countless diorama possibilities. There is an A-20 Havoc which was used for formation form up and to simulate a Ju-88 attack. Also included are some nice close formation shots.

The Mission to Lorent is the next sequence and is filmed in Black and White. This shows the pre-mission loading of the bombs. You'll also notice that the B-17s aren't so new anymore. There is lots of weathering and battle damage repair. Some of this sequence was actually used in "12 O'clock High". There are some German fighter attacks that are very close to the bombers, taking nerves of steel on both sides.

Reverting back to color the Mission to Villacoublay is a short sequence that has some wonderful sunrise shots with the B-17s in the foreground. Occasionally the video goes dark but the full color makes it worth the price of admission.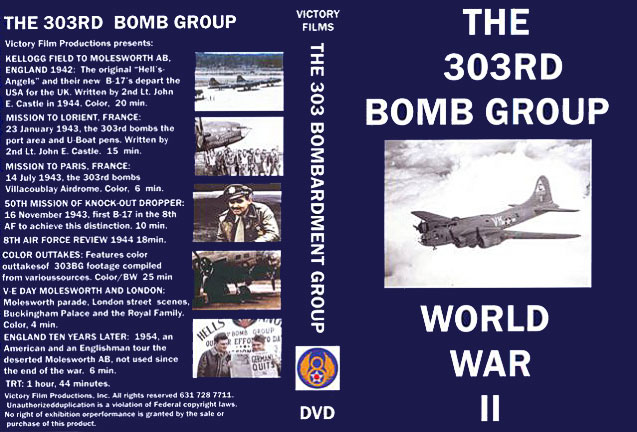 The 50th mission of Knock Out Dropper is the next sequence and it is crystal clear. It really is like it was filmed yesterday. The black and white film is highlighted with some period music. What is unique is that you see the WHOLE airplane, all the graffiti, all the weathering and all the crew and ground crew. You'll notice the grayed out stars and bars, silver deice boots and the mission markings. Very interesting. It was especially interesting that on this mission no bombs were dropped as cloud cover obscured the target. A brief history of the airframe covers from production to being scrapped in the US. Finally this sequence wraps up with the unsung heroes, the ground crewmen. You see them at work and at play. There are some tools, such as a grease gun that would look nice in a diorama setting.

The Year in Review-1944 is typical WWII propaganda film, except that it includes some great shots of Fortresses in action and displaying battle damage. How is this for a diorama idea? How to raise a belly-landed B-17. Some R&R stuff in is included, highlighting Boxing matches between the USAAF and the RAF. There is a sequence of P-47s from the 56th Fighter Group with some really close shoot down photos. The Bf-110s are getting hammered. There is one combat film that stands out is a FW-200 Condor being shot down on short final. In another shoot down you are literally flying formation about 50 feet behind a FW-190 then shooting it down. Impressive to say the least. The Royal Family is shown touring RAF and USAAF bases. There are He-177s being shot up on the ground as well.

Combat America was a film that Clark Gable put together about aerial gunners. It was shot in full color, but just like modern films there was a lot of outtakes. You are treated to these outtakes, which as far as I know, have never before been seen. The color is beautiful and has not deteriorated over time. Obviously Clark Gable is featured in much of this sequence. What is included is the mission that Gable went on with him shooting a waist gun. It is an interesting contrast with the actors of that era and the actors of this one. The aircraft feature OD with medium green splotches almost stripes over neutral gray. You'll be pleased to see the bomb trolley from the Monogram B-17 kit and note that the bombs do not have the fins attached until they actually arrive at the bomber. There are some wonderful P-47 razorbacks with the red surround included. VE day is celebrated in London and the sequence ends with a beautiful sunset shot, ending the wartime video.

There is a final sequence that is very reminiscent of "12 O'clock High" where some veterans return in 1954 to the airfield. Did life imitate art or did art imitate life?

This concludes the 303rd Bomb Group DVD. It is inspirational, breathtaking and unique. If you ever want to build a B-17 or are just tired of the "Memphis Belle" this will be the only DVD you'll need.

I highly recommend this title and the rest of the series. Great research material, exciting action and new film makes this DVD a great value for the money. For less than the cost of a kit you will be motivated to build numerous kits.
Highly Recommended.
Thanks to Wade Meyers and Victory Films for the review copy.
---
Review Copyright © 2006 by Floyd S. Werner Jr.
This Page Created on 30 August, 2006
Last updated 29 August, 2006
Back to HyperScale Main Page
Back to Reviews Page