S u m m a r y

Publisher and Catalogue Details:
Osprey Aircraft of the Aces #66 "Balloon Busting Aces of World War 1"
ISBN:
1841768774
Media and Contents:
Soft cover, 96 pages
Price:
GB£12.99 online from Osprey Publishing
Review Type:
FirstRead
Advantages:
Well researched, easy to read style, superb artwork, and excellent use of first hand accounts.
Disadvantages:
Recommendation:
Highly Recommended

Reviewed by Rob Baumgartner


Osprey's Sopwith Pup Aces of World War 1 may be ordered online from Squadron.com

Osprey's latest in the "Aces of World War 1" series focuses on one of the more interesting targets to confront the pilots…observation balloons.
Shooting these down was considered a very dangerous objective and pilots that volunteered for such missions were considered to have "balloon fever", a combination of pyromania and a death wish.

There were many reasons why this was a perilous exercise. A burning gasbag could be seen for many miles and would attract enemy fighters like bees to honey.
Being well behind enemy lines, the offending pilot would also have to run the gauntlet to get back to the relative safety of his own lines.

Another danger was the ever present anti-aircraft artillery and machine gun fire that would train a cone of fire on the would-be attacker.

The first item to catch the eye is the book's cover art. This features the king of the balloon busters…Willy Coppens. The more observant reader will notice the Hanriot's stationary propeller, and a description of this fascinating encounter can be found within.

The story is set with an enlightening explanation of the two basic types of gasbags used in World War 1; these being the Drachen and Caquot.

The tactics and weapons used to down these lighter than air targets are also discussed, including some amusing stories of the erratic Le Prieur rockets.

An interesting facet of this book is that it covers the Aces of both sides of the conflict. Thus in the one book, the reader can compare the different strategies taken by the combatants, everything from the squadron approach to that of the lone hunter.

All Fronts are covered in the subsequent chapters with the final one being devoted to the "greatest of them all", Willy Coppens. This section makes fascinating reading as Coppen's himself talks about his aircraft, its markings, and even a meeting with the famous Guynemer. His writings also talk about his "suicide mission" where he flew 200 kilometres behind enemy lines merely to "buzz" his parent's house!

There are the usual 96 pages to greet the reader and these contain over one hundred black and white photographs. The images are well chosen with many that will be new to regular readers of the series. The clarity of these is also good with an excellent selection of the men and their machines.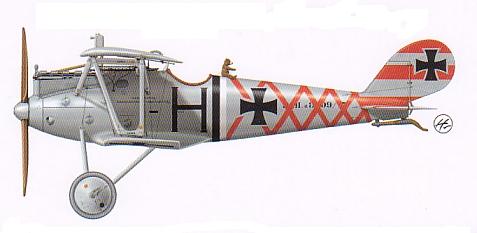 Harry Dempsey chimes in with his usual superb artwork. In this case there are forty aircraft illustrated with an additional eight in plan form. Types covered are the usual suspects, including items from Nieuport, Spad, Sopwith, Fokker and Albatros.

A couple of surprises are thrown in, including a profile of Pippart's Roland D.IIa that he used to down Russian balloons before transferring to the Western Font.
Unavoidably there are some duplicated profiles from other titles in the series but these have been kept to a minimum.

As with other books from this author, the text is very entertaining and easy to read.
Having the participants own accounts interspersed in the copy adds to the experience and gives one a feeling of being there.

The appendices give a table of known balloon aces from each nation as well as their final overall score.

Conclusion
This is an excellent addition to the much expanding Aces series.
Jon Guttman is an ideal choice for this type of book where his research and knowledge of the subject is enthusiastically passed on to the reader.


Highly Recommended


Balloon Busting Aces of World War 1




(Aircraft of the Aces 66)

Author: Jon Guttman
Illustrator: Harry Dempsey
US Price: $19.95
UK Price: £12.99
Publisher: Osprey Publishing
Publish Date: July 15, 2005
Details: 96 pages; ISBN: 1841768774
Review Copyright © 2004 by Rob Baumgartner
Page Created 13 July, 2005
Last updated 12 July, 2005
Back to HyperScale Main Page