Reviewed by Rodger Kelly


Osprey's "Beaufighter Aces of World War 2" may be ordered online from Squadron.com
Beaufighter Aces of World War 2 is amongst the latest batch of releases from Osprey Publishing and is number 65 in their ever expanding Aircraft of the Aces series.
I first saw a Bristol Beaufighter in 1973. It was stuffed into a corner of a run down and motley collection of what we now call warbirds at Camden in New South Wales, Australia. Even though it was barely visible and partially dismantled, it still looked pugnacious and powerful dressed in its overall foliage green camouflage scheme. That sighting has had me interested in the Beaufighter ever since and I try and read everything that I can on it.
This is why I'm so enthused with this new book from Osprey. Whilst it does not supply a developmental history of the Beaufighter, is does fill out the human side of its use in World War II.
And it does this very comprehensively. It is made up of six chapters, five appendices and two pages of 1/96 scale line drawings.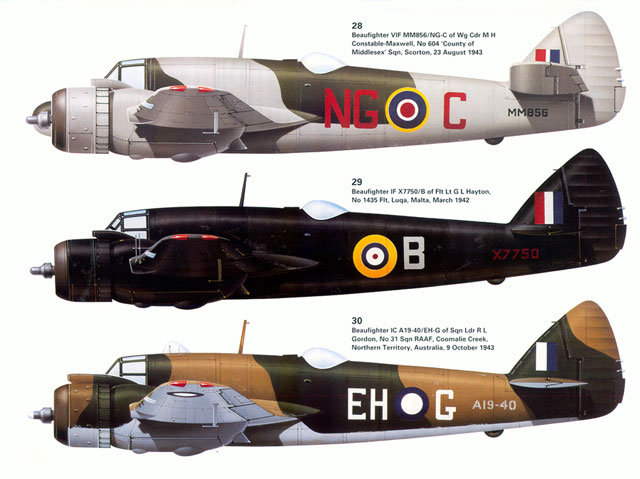 The chapters and their contents are as follows:
The Opening Round

Baedeker and Biscay

Bomber Support

Coastal Fighters

Around the Mediterranean

In Tropical Skies

The Last Battle
Also included are ten pages of colour profiles – thirty two profiles in all (by John Weal). The profiles cover just about all of the various schemes sported by the Beaufighter during WWII from the overall "Night" scheme worn by the night fighters, the desert scheme, the Coastal Command scheme, through to the temperate and intruder schemes. Typical of the Osprey Aircraft of the Aces Series, comprehensive captions to these colour profiles are contained on four pages as one of the Appendices.
A strong point of the book is the illustrations, many of them not seen before (at least by this enthusiast!). There are 103, black white photos in all as well as the previously mentioned line drawings.
The book itself has 96 pages printed on glossy paper between thin cardboard covers and is the same size as the Aircraft of the Aces series also produced by Osprey.
My bias toward the Beaufighter aside, this is an excellent publication. It will give the reader a "complete picture" of Beaufighter operations through WWII as told by the pilots who flew and achieved the fabled ace status in them.
Recommended.
---
Postscript
That Beaufighter I first saw at Camden has now been re-located to the purpose built Harold Thomas collection - Narellan Aircraft Museum to the South-West of Sydney. It is still in a corner but has now been re-assembled and well worth a visit to if you are ever in Sydney between 10:30am and 4:30pm on a Sunday!
Thanks to Osprey Publishing for the review copy
Beaufighter Aces of World War 2




(Aircraft of the Aces 65)

Author: Andrew Thomas
Illustrator: John Weal
US Price: $19.95
UK Price: £12.99
Publisher: Osprey Publishing
Publish Date: March 20, 2005
Details: 96 pages; ISBN: 1841768464
Review Copyright © 2005 by Rodger Kelly
Page Created 25 April, 2005
Last updated 25 April, 2005
Back to HyperScale Main Page
Back to Reviews Page