S u m m a r y

Publisher:
Midland – An Imprint of Ian Allan Publishing
ISBN:
1 85780 179 2
Media:
Hard cover, 240 pages of text.
Price:

GBP

£29.99 / USD$54.95 available online from

Midland Counties Superstore

and

Specialty Press.
Review Type:
First Read
Advantages:
A unique view of British aircraft development
Disadvantages:
Recommendation:
Highly Recommended
Reviewed by Steven "Modeldad" Eisenman
S u m m a r y
When I received this book, I just could not put it down. There have been many, many books and monographs on the Luftwaffe's visionary aircraft projects, but few books, if any at all, on aircraft development in the United Kingdom during the World War Two period, and immediately thereafter.
This volume is divided into four broad categories, RAF Fighters, RAF Bombers, "Over Water" Aircraft and Jet Aircraft. Within those categories are chapters addressing specific types. For example, RAF fighters is sub-divided into Single-Engined Fixed-Gun Fighters, Twin-Engined Fixed-Gun Fighters and Turret Fighters.
The book starts with the Hawker Hurricane. Remember, this is about secret projects, not imaginary or merely proposed projects. At some point the Hurricane was a secret. The author then goes on in a logical order to briefly describe all aircraft projects undertaken. It does not matter whether the aircraft entered service or got only as far as the drawing stage.
Unlike other books on real or proposed project, there are no digital images or modern models. There are line drawing, the actual project model of the proposed aircraft, actual factory mock-ups and, in many instances, pictures of the prototypes. It is amazing that some of the proposed oddities actually made it to the prototype stage.
Some of the aircraft projects leave me scratching my head: What were they thinking or, for that matter, smoking? Aircraft that looked like a Grumman Sky Rockets with a turret, or the Buckingham which look likes a kit bash of a B-25, P-61, Lockheed Ventura and a Beaufighter. There was the Manx - you know, the cat that does not have a tail? Neither did this aircraft. Handley Page made the Black Bullet look mainstream!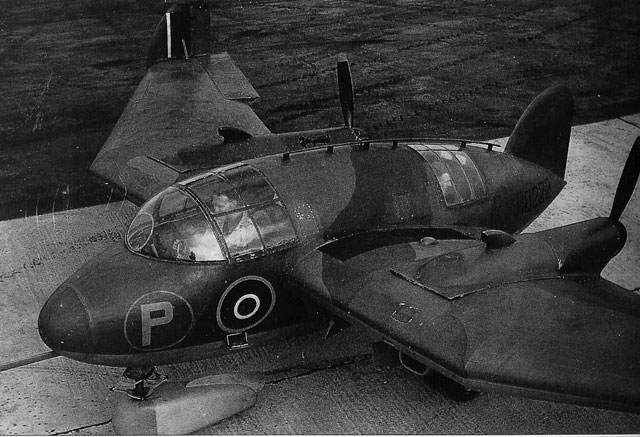 This volume also has very well done appendices. There is one that list projects by manufacturer, another that lists them according to Air Ministry project specifications, and a list of aircraft contracts. Finally, there is a well done index.
A note on the cover illustration; it is the Vickers Type C "Giant Bomber" proposed in 1942. This artwork is the only real liberty taken in putting it in the paint scheme of an Avro Lincoln and in the markings of No. 617 Squadron.
This is an excellent work that covers not only British aircraft development, but the thought and imagination behind it. I unreservedly recommend this volume to anyone interested in the subject. For those not specifically interested in the subject matter, take a look at a copy; bet you'll have trouble putting it down.
Highly Recommended.
Thanks to Ian Allen Publishing for the review sample
---
Review Copyright © 2004 by Steven "Modeldad" Eisenman
This Page Created on 31 August, 2004
Last updated 31 August, 2004
Back to HyperScale Main Page
Back to Reviews Page