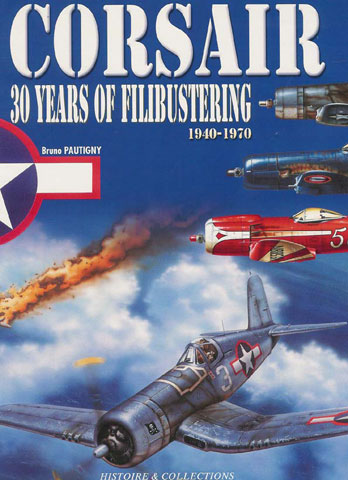 Corsair - 30 Years of Filibustering 1940-1970
by Bruno Pautigny
Histoire & Collections
S u m m a r y

Publisher and Catalogue Details:
Corsair - 30 Years of Filibustering 1940-1970 by Bruno Pautigny. Published by Histoire & Collections
ISBN:
2-913903-28-2
Media and Contents:
Hard cover, 127 pages of text. 12.5 x 9.25 inches
Price:
USD$33.97 from Squadron.com. Stock No. CBH3282
Review Type:
FirstRead
Advantages:
Beautifully illustrated book covering all variants. Approximately 150 profiles.
Disadvantages:
Short on text.
Recommendation:
Recommended to all modelers who love this bent wing bird.
Reviewed by Steven "Modeldad" Eisenman


Corsair - 30 Years of Filibustering 1940-1970
is available online from Squadron.com
When I first received this book, it struck me that I have seen this style before. Then it came to me, my childhood and my children's early years. It reminded me of the Giant Golden Book of Dinosaurs, or Pirates or Airplanes. Lots of beautiful, imagination capturing illustrations and a minimum of text.

This is not meant to be derogatory, for the author himself admits that as an illustrator he has given priority to illustration and image, and that the text is deliberately concise. And as many of us may remember, those wonderfully illustrated books opened new doors and sparked new interests. The author, in fact, intends his book to have that very purpose, as he so delightfully states "This work does not claim to be exhaustive and is destined as much to the enlightened amateur as to the neophyte, in whom perhaps will appear a new love for the fabulous Bentwing Bird".

There is no question that Mr. Pautigny has beautifully illustrated the life, or should I say lives, of the Corsair, from the first prototype to the Reno racers. He also has touched on every theatre of operation and operator, from the Pacific War to Europe with the FAA, from Korea to Indochina, Suez and Algeria with the French and finally with the Latin American air forces. As This is a French publication, the section on the French use of the Corsair is given good coverage.

The illustrations, which are the heart and soul of this book, are beautifully done and beautifully printed in 1/48 scale. The sources include builders' data and other references which, as acknowledged, do differ. But, the author does give a caveat about the illustrations, which I wish more illustrators would do: "Although we have tried to be as accurate as possible, our illustrations must not be taken as the final reference."
Now that is refreshingly honest!

As to the text, it is indeed sparse, and details are mixed in with illustrated examples. There is an entire page that shows the differences in Corsair canopies from 1941 through 1951 (-1 through –4,-5 and AU-1) through illustrations. There is another page of illustrations showing the evolution of air intakes and exhausts from the –4 through the –7. The text information is often less than that which is in the Squadron-Signal In Action monograph. But then again, I do not remember anyone else mentioning the little spoiler on the leading edge of the right wing outboard of the machine guns. The problem is that the author does not say on what model it was introduced (Note: It is part B7 in the Tamiya 1/48 –1A and –1D kits, but not in the –1 Birdcage)

I'm not sure if it is a result of being too concise or a problem in translation from the French, but there are some generalizations that caught my attention, and put me on notice about the entire text. For example in discussing camouflage and markings we are left with the clear impression that all birdcage Corsairs had roundels in six positions, and that Tri-colored birds only had star and bars with red or blue outline. Also, the usual error in that all FAA Corsairs had clipped wings. Although "all" is not stated, the exceptions are not noted. And my favorite; "The Kiwis gave up their P-40s and keenly jumped aboard the famous Corsair." The mental image that this conjures up I find humorous.

Finally, although extensively illustrated, there are few photographs, and many of these have been seen elsewhere.
I can recommend this monograph to all modelers who want an introduction to the Corsair. While not an essential book for Corsair experts, I would also recommend it to those that want to round out their library with a beautifully illustrated volume.
One concluding note on the title. I'm not sure why the word "filibustering" is used to describe the life of the Corsair. In English the term means either
The use of obstructionist tactics, especially prolonged speechmaking, for the purpose of delaying legislative action; or

An adventurer who engages in a private military action in a foreign country.
However in French "Flibustier" means a pirate, specifically in the Americas. In English, Corsair means a pirate along the Barbary Coast. Although not an English expression, I believe the intent is to say "30 years of pirating.".
Which is interesting, as the skull and cross bones pirate flag adorned the cowl of many a Corsair.

Recommended
Thanks to Bruno Pautingy for the review sample.

---
Review Copyright © 2003 by Steven Eisenman
Page Created 25 September, 2003
Last updated 13 October, 2003
Back to HyperScale Main Page
Back to Reviews Page