Aviation Color Primers
Nº 1 - US Export Colors of WWII
by Dana Bell

S u m m a r y

Media:
Soft cover; A4 format; full colour
Price:
TBA (Available from Meteor Productions
Review Type:
First Read
Advantages:
Excellent coverage of early war US export colors plus an analysis of the standards and their haphazard implementation.
Disadvantages:
Recommendation:
Highly Recommended
Reviewed by Fernando Rolandelli


HyperScale is proudly sponsored by Squadron.com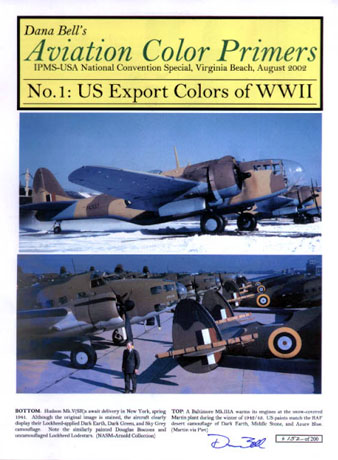 There was a time when all USAAF aircraft were either painted in Olive Drab and Neutral Grey or left Natural Metal (if coming from a late war period), and we modelers were happy. Well, it seems we should not have been, for someone realized that there had always been some P-40s (the famed Flying Tiger's, for example) and P-39s (later we discovered that they were actually P-400s) going around sporting odd disruptive camouflage schemes. The reason behind this incongruence lies in the fact that many USAAF aircraft in the very early war period were drawn from foreign orders and impressed into service, thus having the scheme required by the initial customer. On the other hand, given the great quantity of American made aircraft supplied to the Allies, the question of their camouflage colors becomes crucial to the modeler.

This is the subject dealt by Dana Bell, of Squadron Signal Publications fame, in his booklet "Aviation Color Primers: N° 1: US Export Colors of WWII". It is small (20 pages in all), neatly computer-printed in black and white, except the covers (in higher-grade paper) showing quite interesting color photos from the period, all stapled three-fold. It is a sort of limited-edition, thus each copied is individually numbered (mine is n° 152 out of 200).

The monography deals with the painting of American military aircraft bound to the export market in the immediate prewar, through the early war period. It begins by loosely describing the schemes used in the aircraft ordered by the British Aircraft (Purchasing) Commission directly to American manufacturers in the neutrality days, before the Lend-and-Lease program, and which were, of course, painted to British specifications in the most feasible way, even before the USAAC required its own machines to be camouflaged, as well as the commands made by other customers, specially the French and the Dutch.

But the real hard core of the article is formed by the analysis of the acts of the Technical Sub-Committee on Camouflage, formed on 13 February, 1942, and charged with the not mean task of the standarization of the camouflage paints required not only by the US Army and Navy, but the British RAF and Fleet Air Arm as well. From the works of this committee emerged the color and paint specifications now known as the "ANA", the standard joint Army-Navy camouflage colors. Even parts of the actual acts text are transcribed. They go a long way to explain how the early colors used in a fairly haphazardous way were merged into the ANA specs, which of them "survived" and which were discarded. Problem is that the monograph limits itself to "official" data and information, with little concern about the actual practices of the factories themselves (with a major exception made when dealing with the problem of Curtiss' Dark Earth as seen on P-40s).
Written accounts are complemented with black-and-white photos, all of them interesting and to-the-point, such as the one showing Olive Drab and camouflaged P-47s sharing the same production line! Several drawings, taken from original official blueprints, show annotated camouflaged schemes of assorted aircraft.

The monograph is somewhat lacking in that it does not include reference to any commercially available color range, such as Pantone or Munsell, to the RGB system nor to any actual modeling paint range, all of them useful shortcuts to the modeler. This is not within its scope, so it cannot be taken as a fault on its part. The monograph intends to provide a solid, well researched reference to the official colors used in the different camouflage schemes, but not the actual physical look of them, nor to the evolution of them into, say, the FS 595a specifications. It successfully helps get rid of many misconceptions and long surviving "myths" surrounding this important subject.

The conspicuous "N° 1" in the monograph's title makes us hope for a follow up. May it be on the fascinating saga of the Dark Olive Drab / Olive Drab / ANA 613 color, barely hinted in the text.

This booklet is highly recommended to back up polemic schemes and positions in experts' arguments. Polemic is no longer restricted to late-war Luftwaffe's fighter schemes!

Highly Recommended
---
Review Copyright © 2003 by Fernando Rolandelli
This Page Created on 12 January, 2003
Last updated 24 August, 2003
Back to HyperScale Main Page
Back to Reviews Page