S u m m a r y

Catalogue Number, Description and Price:

Dataview #1 F/A-18 Hornet USD$8.00
Dataview #2 A-10 USD and Dataview #3 AV-8 Harrier on one CD USD$10.00

Contents and Media:
See text below
Review Type:
FirstLook
Advantages:
Easy navigation; plenty of reference; simple formay for viewing; great value for money (especially with the A-10 and Harrier on a single disk)
Disadvantages:
Windows Platform Only
Recommendation:
Recommended.
Reviewed by Mike Reeves


HyperScale is proudly sponsored by Squadron
Every modeler I know has a library of books to glean over that are relevant to the hobby. I spend nearly as much per year on references as I do kits, aftermarket and decals. I sometimes have a hard time swallowing the price tag on some of the references I need. Well, this is all going to change for me.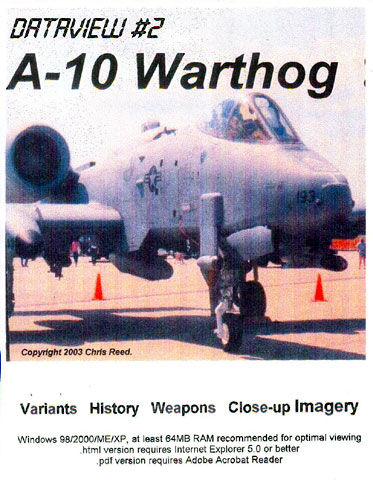 Last week I got a box in the mail from Chris at Dataview Publishing. He asked me to review a couple of his E books here on HyperScale. I was happy to oblige. Having never had an e Book I wasn't sure what to expect. Upon opening the box, I saw three very nicely packaged, DVD style cases with aircraft photos on the covers. I popped open the A-10 disc and tossed it in my CD drive on the computer. What I got when it opened was a very well laid out "book" for me to read off of the computer.
The layout was very easy to follow and the book includes "buttons" to navigate easier. It is full of photographs of early A-10s through Desert Storm, the Balkans conflict and up to todays LASTE aircraft. The historical text is an easy read as well. One thing that blew me away on the A-10 E book was that there was a second book on the AV-8 Harrier on the opposite side of the disc!! This book is laid out in the same format and also includes a ton of photos as well as a bibliography of known reference books on paper that may aid the modeler even more.
Being a modeler the photographs are one of the most important things for me. The reference photo section on all four of the e books I got are made up in Thumbnail form and can be enlarged with a left click of the mouse. I like that setup as it makes the photos load faster.
The F-18 e Book I have is very comprehensive as well and takes you from the early days all the way to the F/A-18E/F models. The format sort of reminds me of a Detail and Scale book but with color pics throughout.
I have yet to read the History of the USAF e Book Chris sent me so look for a review of it shortly.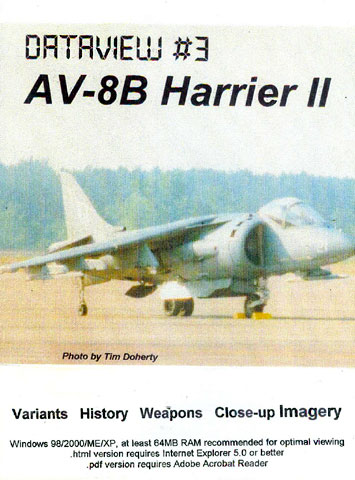 Now on to what equipment you need on your computer and how much the titles are. To read the Dataview books you have to have Adobe Acrobat Reader installed. If you do not, you can download it for free at www.adobe.com/products/acrobat/readstep2.html
It is recommended that you view the book using Adobe Acrobat as a stand alone program. This makes the image loading faster than if you launched it from a browser.
Since I had Adobe Acrobat it was simply a case of, installing the CD, going to my CD drive and double clicking. Adobe Acrobat did the rest.
Now for the really great part of the review, the cost. The titles I received are as follows:
Dataview #1 F/A-18 Hornet $8.00 USD

Dataview #2 A-10 and Dataview #3 AV-8 Harrier on one CD $10.00 USD

USAF Chronological History and Guide to Resources $7.00 USD
These books are a super value for your money. They are well packaged and easy to navigate. This may be the future of reading with the cost of paper on the rise. I am very impressed with the product. I can heartily recommend these or any other titles from Dataview to all.
My thanks to Chris at Dataview Publications for the review samples. The books can be ordered at www.dataviewbooks.com
This review sheet courtesy of www.Twobobs.net

---
Twobobs Decals are available online directly from their website at http://www.twobobs.net
---
Images and Text Copyright 2004 by Mike Reeves
This Page Created on 08 February, 2004
Last updated 08 February, 2004
Back to HyperScale Main Page