S u m m a r y

Title:
Dragons on Bird Wings Volume I - The Combat History of the 812th Fighter Air Regiment by Vlad Antipov and Igor Utkin
Published by Aviaeology
ISBN:

0-9780696-0-9

Media and Contents:
Soft cover; 150 pages plus covers
Price:
USD$39.99 plus shipping available online from Aviaeology website
Review Type:
First Read
Advantages:

Fascinating and thorough history; zealously researched; captivating pilot's recollections; excellent artwork

Disadvantages:
Recommendation:
Highly Recommended

Reviewed by Aleksandar Šekularac

HyperScale is proudly supported by Squadron


"To the right and slightly above, I caught a sight of tongues of flame. I turned my head – pieces of burning Yak, like in a fantastic frightening dream, were flying in all directions and tumbling towards the earth. Not far from me, somersaulting slowly, fell a tail section with a red star on it. Who was the pilot? What happened to him? But just after a moment's glance out in space, my lead banked his aircraft and gritting my teeth, I pushed the throttle forward until my hand grew numb…" – Ivan Fedorov, pilot of the 2nd squadron 812 IAP"
The above excerpt is one of many tales from a book that I can best describe as a new type of "Russian Classic". As a matter of fact, at the point of this writing the book is fresh from the printers and yet to become a classic, but I am certain it will obtain this status, and sincerely hope that more will follow, so that we can acquire a complete series of such excellent historic references.
"Dragons on Bird Wings" is a trailblazing soft-cover published by a new name in this industry, "AVIAeology" (I dare you to say this backwards). Researched and written by, Vlad Antipov and Igor Utkin, and published in English language by Terry Higgins and company, this book tells a captivating story of 812th Fighter Air Regiment (IAP), a Yak flying unit on its momentous journey through the battlefields of Great Patriotic War (GPW), or more precisely above them.
Volumes about unit history are probably not unusual in the realm of German Luftwaffe or USAF, but Soviet Air Force during the GPW is indeed a great unknown. Misconceptions, prejudice and Cold War half-truths have all a lot to do with our blurred vision of events that took place in this crucial and brutal chapter of WWII. "Dragons on Bird Wings" is a perfect tonic for this condition.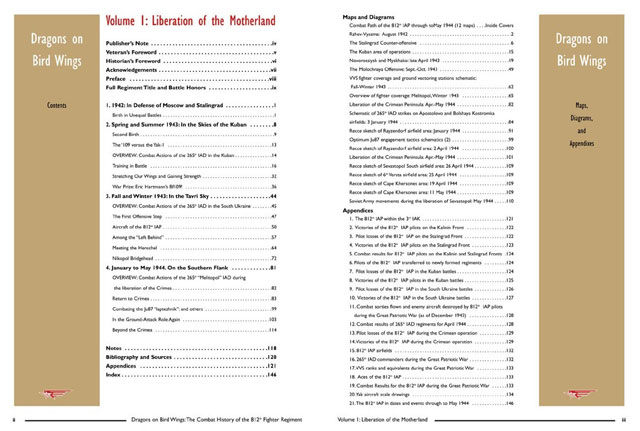 This is what I call a "serious" history book, one that transcends the level of hobby reference not only by its content but also by its make. Unlike so many other books on my shelf it begins with "Table of Contents" and ends with "Index". Sounds plain enough, but these tools are often overlooked yet extremely helpful, when navigating for some particular information; and there is plenty to navigate through these pages. I wish all the authors and publishers had such discipline.
The content itself is multi-layered and dense. I would advise against trying to swallow everything at once. This text will lend itself to multiple visitations.
Four forewords introduce the book: one by publisher, one by a historian, Von Hardesty, Curator of Smithsonian NASM, one by the veteran pilot, Kapitan Aleksandr Ivanov, the last surviving fighter pilot of the 812th IAP, and one more from the authors. All are more than worth reading, as they set the stage for what will unravel, as well as offer different perspectives on this history.
"Dragons on Bird Wings, volume I" is above all a historic almanac of the 812 IAP from its formation in March 1942, through the battles for Moscow and Stalingrad, "Meat Grinder" of Kuban, to the actions in South Ukraine and liberation of Crimea. As the title suggests, this is first of the two volumes, where the second one will continue the story and follow this unit to the final victory and Berlin.
Detailed material that the authors provide is impressive to say the least, even overwhelming at places. Day to day reports of the battles, losses and victories, personal accounts and anecdotes, photographs, maps and tactical graphics are all there. Apart from the 812th own turbulent warpath this book comments on the larger formation movements and general conditions on the front.
Advance of the troops, structuring and restructuring of the units is often a very complex matter to follow, and to help the reader the authors offer a multitude of local maps and diagrams. But instead of peering into some yellowed, half faded piece of paper, all these graphics are rendered anew in color, based on actual period documents. Very well done indeed. I'd say that the only thing missing is an overall, large scale map, maybe a foldout, which would show complete course of 812th through the war with all the major battles and places marked. I think this would be helpful especially for readers who are perhaps less acquainted with the vast terrain of the USSR. Maybe something to expect in volume II?
The most captivating part of the book for me is the pilot's recollections, and anecdotes. Like the one quote at the very beginning of this review, there are countless other personal accounts of the participants in these epic air battles. They bring the human element to this story and a full range of vivid emotions, from fear and anxiety, to exhilaration and rage. This is where one gets to understand how a human being can feel, caught in a moment in the most extreme conditions and under tremendous psychological and physical stress. Quite amazing.
Click the thumbnails below to view larger images:
---
"The Yak Book"
In my conversation with Terry "the publisher" I used the name "Yak Book" to describe this volume, which he found amusing, unlike the authors would probably. This is of course a scale-modelers perspective, but also another strong point of this publication. There are 26 beautiful color profiles and most of them are Yaks 1s, 7s and 9s. There's also some foes: a Stuka, a couple of Hs-129s, FW-190 and five Bf-109s, including Hartmann's plane, captured by the 812th. As the unit in question flew almost exclusively Yaks, they naturally receive most attention. Profiles are well drawn and detailed, accurately painted, beautifully shaded and finally very professionally printed. One could easily frame these and hang them on the wall. I hear that the graphic artist is a good friend of the publisher, from the other side of the mirror. Yes, Terry Higgins again.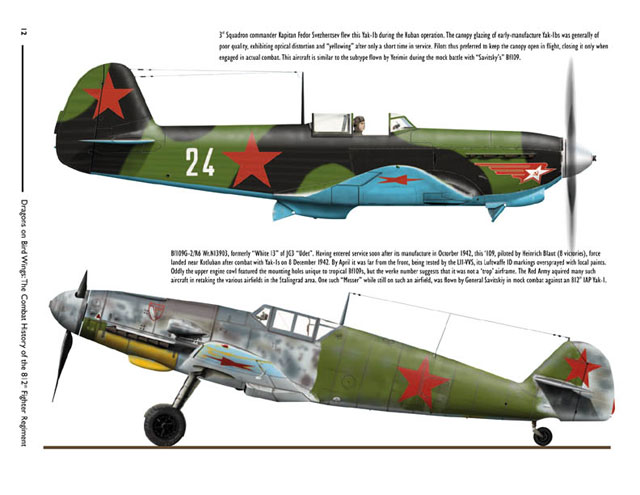 Click the thumbnails below to view larger images:
---
To provide for the grand finale, the last few pages of the book are devoted to detailed 1/48-scale drawings of all Yak variants from Yak-1 to Yak-9T. The only ones missing are 9K, 9U and Yak-3, but these are coming in the volume II. Alexander Rusetski expertly made these line drawings. Comparing them against my other references I feel comfortable in saying that these are to date the most accurate published drawings of this aircraft type.
Pic 08
I am finding it hard to say anything that is not superlative about this tome. If pushed, I'll state the following: I would prefer to have it as a hardback, but this would undoubtedly increase the cost. One could also say that there are not enough period photographs of the airplanes themselves. As I understand this not due to the lack of research material, rather it is a timing and acquisition of rights problem. Something they are working to amend in volume II.
This book is zealously researched, well written, beautifully illustrated, and very well designed and printed. I can only congratulate the whole team for bringing this project to life, and extend my special thanks to Terry for sending me a review copy.
AVIAeology is here to stay, no matter how difficult it is to pronounce. Even decals from these people come with extensive and well-researched information, so I am confident that every new release will also have a pedigree. I hear that a set of waterslides will soon cover most interesting aspects of this book too. Once these are released it would be nice to see them offered with the book. But more importantly, now that we have accurate Yak drawings, a new generation of accurate Yak kits is due.
And there are other very interesting titles announced by AVIAeology. Apart from "Dragons" volume II, they promise "Hawker Hurricanes in Soviet Skies", and "Griffons over Afghanistan". This last title is another terra incognita, a fascinating subject dealing with MiG-23s during the Soviet war in Afghanistan. How many books on this topic do you have in your library? I had pleasure of seeing a sample artwork being prepared for this book and can only say that it will as well be something beautiful.
"Dragons on Bird Wings, Volume I" can be purchased directly from the publishers web site, at: http://www.aviaeology.com/ , or from a growing number of retailers worldwide.
And the final question: is there a special meaning behind the title "Dragons on Bird Wings"? I'll let you discover the answer on your own, while leafing through the book…
Highly Recommended

---
Review Copyright © 2006 by Aleksandar Šekularac
This Page Created on 01 December, 2006
Last updated 30 November, 2006
Back to HyperScale Main Page
Back to Reviews Page