Reviewed by Steve Palffy


Kagero's F6F Hellcat is available online from Squadron.com
Kagero's title on the F6F Hellcat is packed with photos, scale drawings, colour profiles, walk around photos and decals. The text also helpfully details variants and markings.

The book is presented in typical Kagero style. The left hand column is printed in Polish and the right hand column in English. The captions and colour artwork receive a similar approach with the Polish language first followed by the English translation.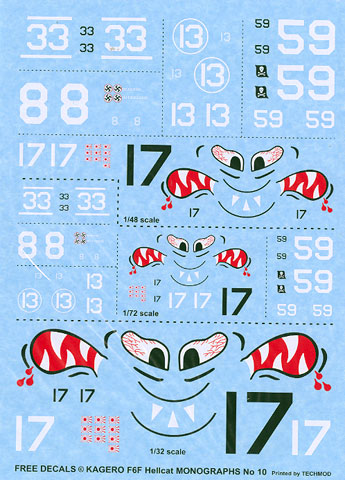 A decal sheet is also included with the book. The decals are in 1/72, 1/48 and 1/32 scales and are printed by Techmod. Techmod decals are very nice but require care when applying. Use plenty of water to float the decal to where you want it and you won't have a problem.
Markings are offered for five different aircraft each in 1/72 and 1/48; and a single spectacular scheme in 1/32 scale.
The decal sheet is packed into a sealed plastic bag that is slipped into a plastic sleeve on the inside corner of the front cover.

The book is A4 in size and consists of 124 pages printed on glossy paper between cardboard covers.

This is an excellent on-stop modellers' reference source on the F6F Hellcat.

Recommended.