S u m m a r y

Title and Author
The Long Drag - a Short History of British Target Towing by Don Evans
Published by Flight Recorder Publications
ISBN:
0-9545605-4-X
Media:
Soft covers, A4 portrait format, 68 pages + covers, incl. 4 pages of colour artwork.
Price:
£9.99 (GBP) + Post & Packing
Review Type:
First Read
Advantages:
Well written and informative book, about a hitherto neglected subject. Probably the only dedicated book currently available.
Disadvantages:
Modellers will probably need to find (if they can) a source of more-detailed photographs and drawings, to do their subjects justice.
Recommendation:
Highly Recommended
Reviewed by Steve Naylor


HyperScale is proudly supported by Squadron.com

Whilst target towing is often seen as an unglamorous and peripheral military activity, one only needs to read this book to see what an important part it has played, and still does play, in airforce combat training. Equally, if you thought that target towing was as simple as stooging around in an obsolete aircraft trailing an old windsock, whilst waiting for some 'flyboy' to come and take a 'pot-shot' at you (or hopefully the target!), then think again (though in truth, it appears that it sometimes it did mean just that!). Don Evans' book provides an extensive insight into both the history and practicalities of target towing, this being possibly the only book to cover this 'art' exclusively, and in such detail.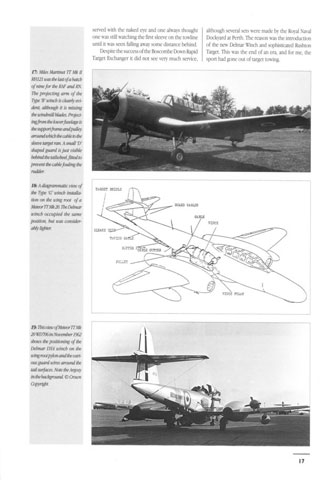 'The Long Drag' is presented in A4 portrait format, with satin-finish soft covers, enclosing 68 semi-gloss pages. There are four pages of colour artwork profiles by David Howley, covering some twenty-three aircraft used as British target tugs. These range from a 1925 Westland Walrus, through Henleys, Battles, Defiants and Beaufighters, right through to Meteors, Hawks and Canberras. Some unusual types include; the Brewster Bermuda (never heard of it), Vultee Vengance Mk.IV and the short-lived Miles M.33 Monitor (the only purpose-designed target tug used in British Service). The remainder of the book, including photographs, is printed in black & white and includes various equipment or installation diagrams. Modellers, especially those interested in scratchbuilding or conversions, will probably still need to hunt elsewhere for detailed close-ups though. Reproduction however is excellent, with a good selection of photographs of the many 'unsung warriors' (as Evans describes them). So on to the book itself.

Beginning with a short introduction, there then follow eleven chapters, rounded off by a listing of the known UK-based RAF Target Towing Units. Chapter headings are; The History of Aerial Targets (Flags, Banners, Sleeves and Darts), Sleeve Targets (Dragging a Drogue), Target Exchanging (Sleeve Swapping), Winged Targets (Less Than Perfect), The Air Snatch Technique (Low, Not Slow), Target Intelligence (Don't Hit the Target), Modern Targets (Size is Not Important), Winches (Letting it All Hang Out), Accessories (Hooks and Cables), The Aircraft (Unsung Warriors) and finally, Tales and Tails (Unsung Heroes).

All this is told from the point of view of someone who spent most of his service life (in both the RAF and Fleet Air Arm) involved with target towing and then afterwards, with the A&AEE at Boscombe Down, working on the technique's further development (Don received the British Empire Medal for his work on the Trident Target and on the Rapid Target Exchanger). Even now in retirement he is still involved at Boscombe Down, where he looks after over 1,000 scale model aircraft!

Highlight for me in this book, is the chapter on 'The Air Snatch Technique'. Imagine a Canberra B Mk.2 approaching at 150 knots and 10 feet altitude, 'hooking' a towing loop suspended above the ground on poles! Once the loop is 'hooked', the aircraft then goes into a high power, steep climb, whilst the remaining tow line flys out of the dispenser until the waiting target is finally snatched into the air! This technique was so spectacular, that it used to be performed at various RAF stations for their 'Battle of Britain' displays - not sure that show organisers would be so keen to put it on now!
Don Evans' book is a concise and well written account of a subject which has, until now, largely been ignored. His practical, first-hand, knowledge shines through and he also tells a good (and often humorous) story. This is a definite candidate for any aviation enthusiast's reference shelf and I can highly recommend it. All we need now, is a bit more support from kit or aftermarket manufacturers to allow us all to do justice to some of those 'Unsung Heroes'. How about the parts to convert the forthcoming 'Classic Airframes' Meteor NF.11/13 into a TT.20 anyone?
Highly Recommended.
---

Review copy (courtesy of yours truly's wallet) was purchased from Midland Counties Publications (a part of the Ian Allan Group) at;

4 Watling Drive
Sketchley Lane Industrial Estate
Hinckley
Leicestershire
LE10 3EY

Tel: 01455 233747 Fax: 01455 233737
E-mail: midlandbooks@compuserve.com
Website: www.midlandcountiessuperstore.com


The book (and others in their range) can also be purchased direct from Flight Recorder Publications Limited, who are at;

Ashtree House
Station Road
Ottringham,
East Yorkshire
HUl2 0BJ

Tel: 01964 624223 Fax: 01964 624666
E-mail: beketley@dircon.co.uk
Website: www.flight-recorder.com


Distribution & Marketing in the USA is by;

Specialty Press
39966 Grand Avenue
North Branch
MN 55056
USA

Tel: (001) 651 277 1400 Fax: (001) 651 277 1203
E-mail: davida@cartechbooks.com

---
Review Copyright © 2003 by Steve Naylor
This Page Created on 24 October, 2004
Last updated 24 October, 2004
Back to HyperScale Main Page