S u m m a r y

ISBN:
1 903223 38 5
Media:
Hard cover; 224 pages; 303 mm x 226 mm in portrait format, more than 300 photos; three loose-leaf cardboard sheets with actual paint chips
Price:
£50.00 or USD$89.95 plus shipping, online from Classic Publications
or available worldwide from specialty bookshops
Review Type:
First Read
Advantages:
Excellent technical and historical summary of pre-war and wartime German paint manufacturing and standards; description of application of paints and camouflage patterns; good coverage of Luftwaffe Day Fighter camouflage and markings; discussion and conclusions are strongly supported by official documentation wherever practical; carefully selected photos (including many in colour) with helpful captions; actual paint samples supplied on separate cardboard charts; numerous new and interesting interpretations of a number of finishes.
Disadvantages:
No specific explanation/description of colour charts (RAL, FAS and Fleiglack standards in particular); a couple of paint chips stuck together on my sample.
Recommendation:
Highly Recommended
Reviewed by Brett Green


HyperScale is proudly supported by Squadron.com
Ken Merrick is one of the world's foremost researchers on the subject of Luftwaffe camouflage and markings. His 1980 title, "The Official Luftwaffe Guide to Painting German Aircraft", co-written with Thomas Hitchcock, remains a favorite reference source for modellers and Luftwaffe aficionados, regularly commanding hundreds of dollars when a copy appears for auction on Ebay.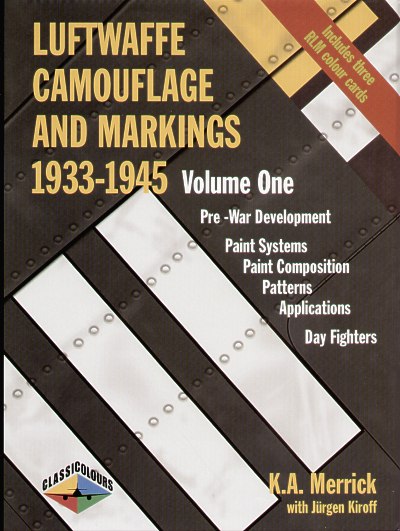 It is therefore no exaggeration to state that Mr Merrick's latest title, "Luftwaffe Camouflage and Markings 1933-1945 Volume 1", has been long awaited and eagerly anticipated.
The first installment of this two Volume set comprises 224 pages between its hard covers. The text is organized into seven chapters plus Appendices, but the book can be neatly divided in two distinct parts. The first six chapters, approximately 124 pages, set the scene with a wide ranging description of the German aircraft paint industry, its development, paint composition, patterns and applications. Chapter 7, comprising 75 pages, describes the camouflage and markings of Luftwaffe Day Fighters.
The first six chapters draw heavily on official documentation to support their conclusions. The entire book is also packed with wartime photos that are used to illustrate various points in the text. Official camouflage patterns are also included for a wide variety of aircraft.
As might be expected, the focus shifts from documentation based to situational based when dealing with the chaotic final two years of the war. Chapter 6 covers these critical years, including discussion of the confusion surrounding the transition and implementation (or otherwise) of the late war Luftwaffe colours 81, 82 and 83. The author also describes the use of existing paint stocks, trials and introduction of selective bare metal finishes on various aircraft components, the appearance of the green-blue lower surface colour, and also offers some suggestions about the reasons for variations - official and otherwise - of camouflage shades.
The section on Day Fighter camouflage is quite comprehensive, and uses wartime photos to supply case studies for the application of camouflage patterns and colours. All the photographs have been carefully chosen and the captions are often fascinating and thought provoking. Many of the photographs are in colour.
This Volume concludes with Appendices describing export colours, interior colours and extracts from official documents.
Three loose leaf cardboard colour charts are also supplied with actual paint samples. Two of the charts contain common RLM colours up to farbton 73 (although not all the colours are on both charts); while a third chart supplies several RLM shades plus FAS, metallic, RAL and Fleiglack samples. Although the RLM colours are fairly self explanatory, I would have liked to see a description or key for the last chart.
The lack of any colour profiles defies the fashion of recent publications, but this book does not suffer from their absence. Camouflage diagrams and wartime photos with their helpful captions combine very effectively to illustrate the detailed text.
.
Ken Merrick's "Luftwaffe Camouflage and Markings 1933-1945 Volume 1" is not a lightweight picture book that can be flicked through and quickly digested. It is a carefully thought out tome, well supported by wartime documentation and photographic case studies, that attempts to tackle this complex subject in the face of receding history and an increasing desire for easy answers.
I think that it is worth quoting the author's own words on page 18:
"For those who require only the simplest answers to specific moments in time and place, the writer offers his apologies in advance and would direct them to less complex works. The danger of dipping into the following text at random, and reading it in isolation of contributing factors may prove confusing or even contradictory at times. Unfortunately, complex processes usually are not concomitant with simple answers - Luftwaffe camouflage and markings fall squarely within those parameters."
This book will be an essential companion for serious Luftwaffe enthusiasts and modellers who are interested in the background and application of German aircraft paints in WWII.
Highly Recommended.
Thanks to Simon of DLS Australia for the review sample
---
"Luftwaffe Camouflage and Markings 1933-1945 Volume 1", and other Classic books, may be purchased through specialist bookstores worldwide or from Ian Allan Publishing website
---
Review Copyright © 2005 by Brett Green
This Page Created on 20 April, 2005
Last updated 22 April, 2005
Back to HyperScale Main Page
Back to Reviews Page