Luftwaffe
Im Focus

Edition No. 8

Start-Verlag
S u m m a r y

ISBN:

3-9808468-8-1

Media and Contents:
Soft cover, 49 pages of text plus, 55 B&W photos, 12 color photos and two color profiles.
Price:
Available world-wide from Start-Verlag - price varies depending on manner of payment and destination. Available in the US from Squadron Mail Order - USD$16.96.
Review Type:
FirstRead
Advantages:
German and English text in parallel columns. Extensive collection of photographs not previously published.
Disadvantages:
Recommendation:
Highly recommended for Luftwaffe enthusiasts.
Reviewed by Steven "Modeldad" Eisenman

LIF Edition 8 is available online from Squadron.com
If you are not acquainted with the Luftwaffe In Focus series by now, then the easiest thing to do is to take a look at these previous reviews of Edition No. 6 and Edition No. 7, they will bring you up to date.
Being a periodical clearly intended for those with a serious interest in the Luftwaffe during World War Two, Edition Number 8 will not disappoint.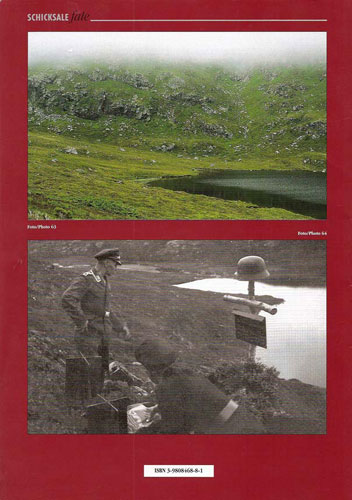 As previously noted, Luftwaffe In Focus presents an article, or articles, that stands out in each edition, and Edition 8 has its fair share. For me, the two central articles in this Edition are the "Painted Markings on the Tails of He 111 of 2./ KG 54" and "Missing at Bastogne –A Victim of the Ardennes Offensive". There is also a good little piece on the yellow "V" marking of Luftflotte 4.
With regard to the He 111 article, it appears that with a lot of time on their hands during the "Phony War" of 1939, German crews applied elaborate art to the fuselage and tails of their He 111s. Given the size of the fuselage and tail, it made a nice canvas. This article focuses on one particular He 111 P, coded B3+BK, which, in addition to the large "Totenkopf" emblem, had a 'bunny rabbit' and 'raven diving with bomb' painted on the fin.
For those who focus on the specifics of Luftwaffe markings, this aircraft is interesting in other respects. The aircraft codes are oddly placed and partially obliterated. The swastika is in a late war style, simply a white outline, without the black, yet the year was 1939.
Given the fact that Koster Aero Enterprises produces (or produced) a He 111 H / P detail set (kit No. 20), which includes vac-form cowls to make a P model, it would be great if decals would be printed for not only these fuselage marking, but other He 111 fuselage art as well.
The other article of interest looks at the last moments of Fw 190 F-8, Black 10, flown by Heinrich Zotlötterer of 8./SG 4. The article contains two very good photos and a profile of this aircraft.
For the modeler, this would be a most interesting subject. While the article points out that the aircraft had a replacement tail, with its own and different camouflage pattern, it seems to me that the aircraft had a replacement cowling as well. The camouflage on the cowling has a distinct and different pattern reminiscent of a USN Tri-Color scheme. It also appears to be less worn than the fuselage. As to the exact colors of the cowling, perhaps RLM 82 and 83 as in the profile, or perhaps RLM 75 and 83. For the rest of the aircraft, you are on your own.
For those who are familiar with this series, and who have each edition, I'm sure you have No. 8 by now. For those who buy depending on the articles of interest, I hope I have given you enough information to make a decision. Finally, for those who have not seen a previous issue, this may be a good edition with which to start.
Highly Recommended.
Thanks to Start-Verlag for the review sample.
---
Luftwaffe Im Focus Edition No. 7 is available online from the Start website
---

Review Copyright © 2006 by Steven "Modeldad" Eisenman
All Images Copyright © 2005 by Luftfahrtverlag-Start (used with permission)
This Page Created on 13 March, 2006
Last updated 12 March, 2006
Back to HyperScale Main Page
Back to Reviews Page