S u m m a r y

Publisher and Catalogue Details:
Osprey Aircraft of the Aces No. 72 F-86 Sabre Aces of the 4th Fighter Wing
ISBN:

1841769967

Media and Contents:
Soft cover, 96 pages
Price:
GB£12.99 online from Osprey Publishing

Review Type:
FirstRead
Advantages:
Great Korean air war reference
Disadvantages:
Recommendation:
Highly Recommended
Reviewed by Ken Bowes
Osprey's F-86 Sabre Aces of the 4th Fighter Wing
may be ordered online from Sq
uadron.com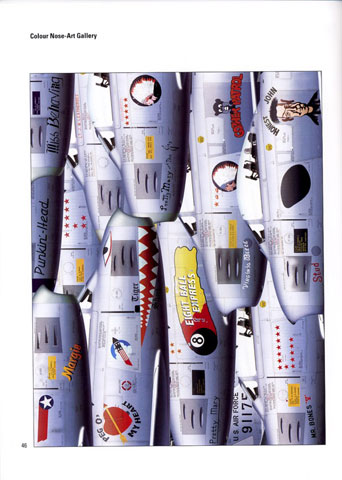 In early 2003 I went to war in the Middle East. Deployed to the same forward operating location were the 335th and 336th Expeditionary Fighter Squadrons, the identities adopted by the Chiefs and the Rockets when deployed as the sharp end of the 4th Fighter Wing's F-15E capability. I recall at the time that the members of the "Chiefs" (335th FS) had the following impressive slogan on their t-shirts: "the largest distributor of MiG parts in the world". This piqued my curiosity until the flash of the blindingly obvious (it had been a reasonably intense phase of OIF to that point) that the 4th Fighter Wing bore the brunt of the air war in Korea, racking up an impressive kill tally against North Korean, Chinese and Russian flown MiG-15s.
American aviation historian Warren Thompson has now addressed the history of the 4th Fighter Wing and its 24 aces in this, his latest Osprey volume, Aircraft of the Aces Series Number 72. Deployed to Korea at a time when the arrival of the MiG-15 in theatre threatened US and UN air superiority, the 4th Fighter Wing was to remain on operations from December 1950 until the end of the conflict in July 1953. Drawing on first hand accounts, combat reports and official records, Thompson has pulled together an excellent narrative history of the unit. I found it both very detailed, but also very readable, with many of the combats told in the pilots own words. One experiences through this the many emotions of combat: fear, exhilaration, frustration and relief. With over five hundred confirmed kills and more than another five hundred probable or damaged, Thompson was not short of material for this book.
The book is also not short of appendices. In this Aircraft of the Aces volume there four, a chronology of the 4th at war, a list of the aces in order of achieving that status, overall kill statistics and aircraft losses. 33 colour profiles of individual F-86s are included in the centre pages with a 3 page montage of the respective nose art drawn in close up, allowing the fine detail to be seen. The end of this volume is a set 1/48th set of scale drawings of the F-86 that some may find useful. Comprehensively illustrated in both black and white as well as much lovely colour, this volume has been an enjoyable read and one that has plenty of potential as a modelling reference work. Now I know exactly why the 335th boast that they are "the largest distributor of MiG parts in the World" and for that I thank Warren Thompson and Osprey.
Highly Recommended.
---
Review Copyright © 2006 by Ken Bowes
Page Created 21 September, 2006
Last updated 21 September, 2006
Back to HyperScale Main Page