S u m m a r y

Publisher and Catalogue Details:
Osprey Combat Aircraft No. 60
B-1B Lancer Units In Combat
by Thomas Withington
ISBN:

1841769924

Media and Contents:
Soft cover, 96 pages
Price:
GB£12.99 online from Osprey Publishing

Review Type:
FirstRead
Advantages:

Very comprehensive look at

Lancer operations

Disadvantages:
Recommendation:
Highly Recommended

Reviewed by Ken Bowes
Osprey's B-1B Lancer Units in Combat
will be available online from Sq
uadron.com
UK based aviation journalist and historian Thomas Withington has made his Osprey debut with this volume of the Combat Aircraft Series. Number 60 covers the B-1B Lancer in combat in the Middle East and the Balkans. Despite having reached initial operational capability in 1986, it was another 12 years before the B-1 first saw action. The reasons for this are varied but most important was the inability to employ non-nuclear weapons until the advent of the Conventional Munitions Upgrade Program which commenced in 1993. With the ability to now carry a mix of smart and dumb munitions such as the Mk 80 series bombs, cluster weapons and more recently J-weapons (up to 24 per aircraft) the Lancer has come into its own in a variety of roles from CAS to global strike.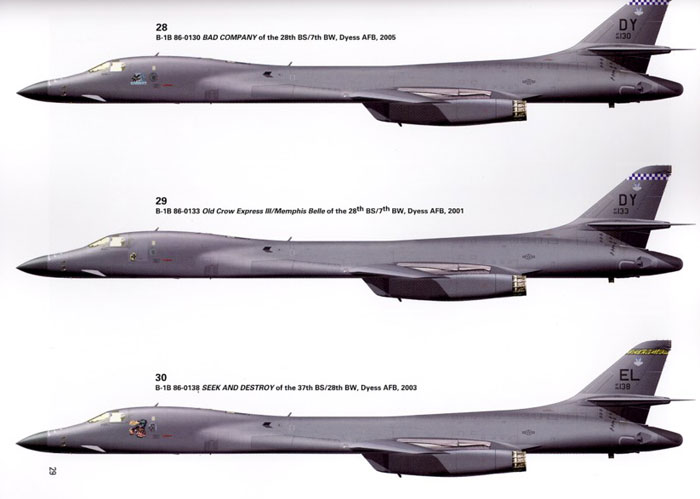 Click the thumbnails below to view larger images:
---
The content of this volume commences with a chapter dedicated to the development history of the B-1. The author then follows with a chapter dedicated to each major operation in which the B-1 has been employed, from Operation Desert Fox and Noble Anvil in 1998/99 through Operation Enduring Freedom to Operation Iraqi Freedom. By 2003 the B-1B was a highly developed weapons system, with the combination of long range and ability to change J-weapon targeting in flight coming into their own in OIF, with highlights such as the strike on Saddam Hussein's suspected location in the al-Mansour district of Baghdad getting detailed examination accompanied by first hand accounts from the crews involved.
A comprehensive appendix in this Osprey Combat Aircraft volume includes a complete fleet list with aircraft names, serials and Squadron assignments as at 2005, with a second highlighting the combat deployments of B-1B units. 30 colour profiles of individual B-1Bs are included in the centre pages with a 3 page montage of the nose art drawn in close up, allowing the fine detail to be seen . The end of this volume is a set 1/216th set of scale drawings of the B-1B that some may find useful despite not being a regular modelling scale. The B-1B has always had a clean futuristic look, and the many colour photos included add to this sense. Withington has produced and excellent debut with detailed coverage of a topic of wide interest. Given the ongoing upgrades and central role of the B-1 in US Air Force Global Strike doctrine, it is likely that this will not be the final volume on Lancers in combat.
Highly Recommended.
Thanks to Osprey Publishing for the review sample
---

Additional Reference Images
from Ken Bowes' collection: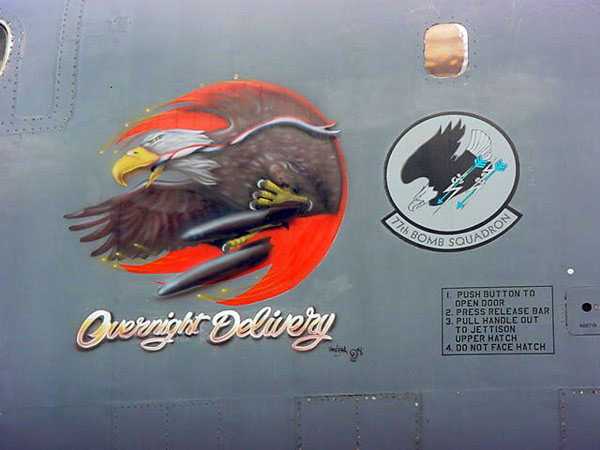 Click the thumbnails below to view larger images:
US Marine Corps and RAAF Hornet Units of Operation Iraqi Freedom




(Combat Aircraft 56)

Author: Tony Holmes
Illustrator: Chris Davey
US Price: $19.95
UK Price: £12.99
Publisher: Osprey Publishing
Publish Date: February 28, 2006
Details: 96 pages; ISBN: 1841768472
Review Copyright © 2006 by Ken Bowes
Page Created 06 April, 2006
Last updated 06 April, 2006
Back to HyperScale Main Page