S u m m a r y

Publisher and Catalogue Details:
Osprey Combat Aircraft No. 61
F-16 Fighting Falcon Units of Operation Iraqi Freedom
by Steve Davies and Doug Dildy
ISBN:

1841769940

Media and Contents:
Soft cover, 96 pages
Price:
GB£12.99 online from Osprey Publishing

Review Type:
FirstRead
Advantages:

Very comprehensive look at F-16 ops in the Iraq Theatre from 2002-2005.

Disadvantages:
Recommendation:
Highly Recommended

Reviewed by Ken Bowes
Osprey's F-16 Fighting Falcon Units of Operation Iraqi Freedom
will be available online from Sq
uadron.com
Having documented F-15 Eagle operations from Desert Storm through Afghanistan to OIF, Steve Davies has switched his attention to F-16 Fighting Falcon. Davies has teamed up with Doug Dildy, retired USAF Colonel and F-15 pilot who logged more than 100 combat hours enforcing the Northern and Southern No Fly Zones in Iraq. Between the two authors there is more than sufficient knowledge, contacts and experience to due this subject justice. Whilst the F-16 was deployed in fewer numbers than its Navy cousin the F/A-18, it made a significant contribution to OIF, particularly in the specialised SEAD role of the Wild Weasel F-16CJ. In fact it was in this role that the F-16 became the second aircraft type to enter Iraqi airspace during OIF, supporting the F-117s conducting the leadership strike which marked the commencement of OIF.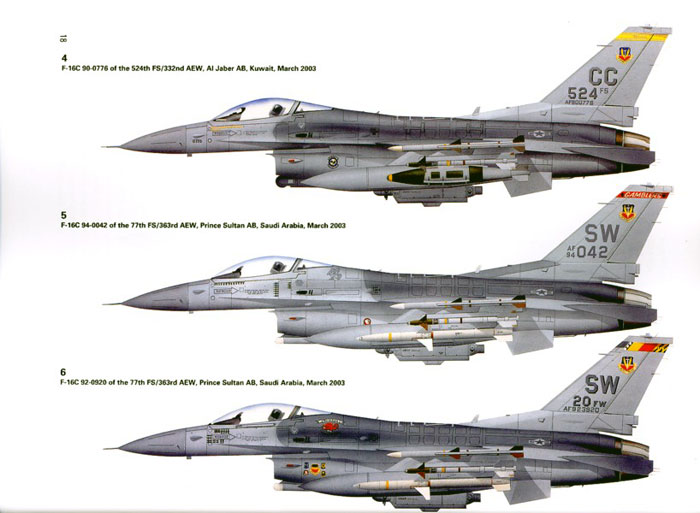 Click the thumbnails below to view larger images:
---
This volume is broken in a similar way to Davies volumes on the Eagle at war, with an opening chapter giving a technical and developmental overview of the F-16 particularly focussing on the transition of the F-16 from light-weight fighter to Wild Weasel. The authors then outline the planning and preparation for war in Iraq, including Operation Southern Watch missions into the final days of March 2003. Successive chapters then address in turn the 77th EFS/363rd AEW, 379th AEW, 524th EFS/332nd AEW and finally the 410th AEW. This last chapter is most interesting as it details the Wing deployed to Jordan that was specifically tasked with supporting the American, British and Australian Special Forces units hunting for WMD and ballistic missiles in Western Iraq. A highly secretive operation, it is surprising how much detail is here, including a description of the ambush of British Special Boat Service units by Iraqi Forces that was broken up by timely CAS from F-16s. Having watched successive waves of Wild Weasel F-16CJs launching on missions over Iraq during OIF I for one have found Davies and Dildy's documentation of these missions very interesting.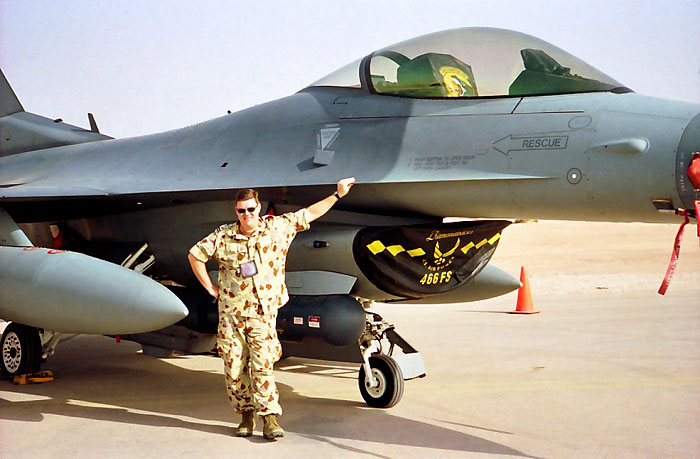 Image by Ken Bowes
---
The final chapter addresses the ongoing deployment of F-16s to support security operations in Iraq. Even as operations continue the F-16 has expanded its capabilities with new targeting pods and ability to employ JDAM being implemented, all of which are covered by the Authors. This Osprey Combat Aircraft volume includes brief appendix summarising all the F-16 units deployed in Theatre from 2002 to December 2005, including all 11 deployed for OIF. It also includes 24 colour profiles of F-16CJ and CG units. Accompanying this volume is also a set 1/72 scale drawings of the F-16CJ that some may find useful. Given the special and secret nature of some of the F-16 deployments it is welcome to see them all well documented in this volume. Modellers are also well served with the photographs and aircraft details which would support an accurate model. Again the highly professional authors that write for Osprey have produced excellent coverage of a topic of wide interest.
Highly Recommended.
Thanks to Osprey Publishing for the review sample
---

Additional Reference Images
from Ken Bowes' collection: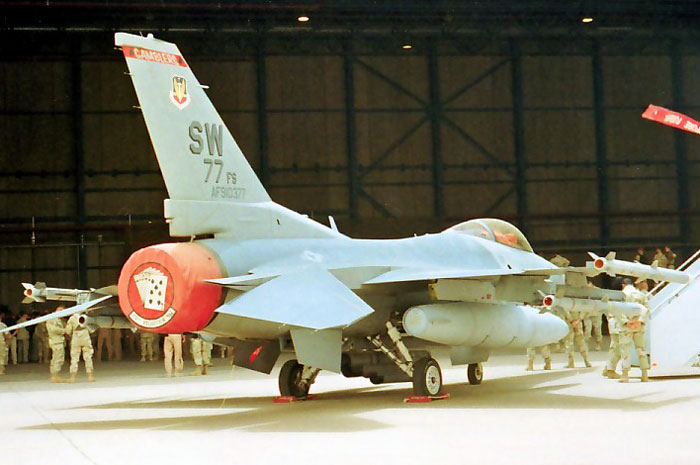 Click the thumbnails below to view larger images:
US Marine Corps and RAAF Hornet Units of Operation Iraqi Freedom




(Combat Aircraft 56)

Author: Tony Holmes
Illustrator: Chris Davey
US Price: $19.95
UK Price: £12.99
Publisher: Osprey Publishing
Publish Date: February 28, 2006
Details: 96 pages; ISBN: 1841768472
Review Copyright © 2006 by Ken Bowes
Page Created 04 April, 2006
Last updated 03 April, 2006
Back to HyperScale Main Page