'Twelve to One' might seem to be an odd title for a book. However, when you realise that it stood for the kill ratio obtained by the fighter units that were assigned to the V (Fifth) Fighter Command in WWII it makes sense.
An "unofficial war manual", 'Twelve to One' - Fighter Combat Tactics in the SWPA (South West Pacific Area) to give it its full title, was originally published by the United States Army Air Force in WWII. It follows similar theme books produced by the VIII Command to describe the air war in the European theatre. Incidentally, one of these two books, 'Long Reach', is also published by Osprey (No 31 in their Aircraft of the Aces series.)
The book itself comprises contributions from 26 different pilots, many of them well known aces. Their reports are written in the first person and describe offensive and defensive tactics that they used on an individual as well as squadron level basis. To give a complete picture and round out the story, the author has supplemented the text with full histories of each pilot in a "side-bar" format. Coverage is complete and contributions come from each of the Fighter Groups that made up the Fifth Fighter Command – the 8th, 35th, 49th, 58th, 348th, and 475th.
The book is well illustrated with 80 black and white photos and 50 full colour side profiles of the aircraft flown by the contributors. They include P-40s, P-47s, P-38s and P-51s. The photos and profiles show many seldom seen aircraft. Decal manufacturers would do well to note that many of them have never appeared in decal format before!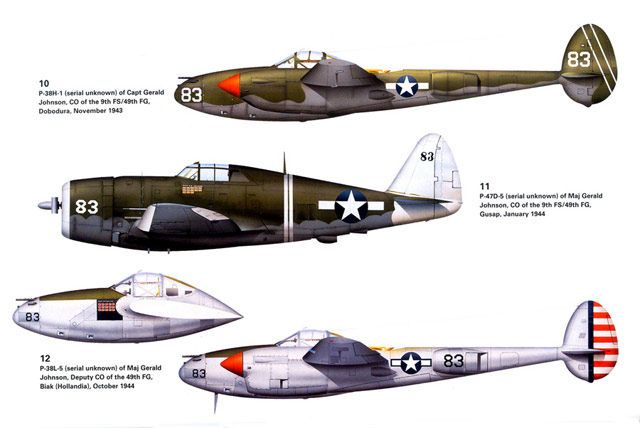 The book consists of 128 pages printed on glossy paper between cardboard covers.
This is more of a history book than modelling reference book. If you are looking for walk-around type pictures to assist you in building your latest masterpiece, then look elsewhere. If however you are seeking knowledge on what it was like to live, fly and fight in the South West Pacific Area during WWII then look no further.
Recommended.
Thanks to Osprey Publishing for the review copy

'Twelve to One' V Fighter Command Aces of the Pacific




(Aircraft of the Aces 61)

Author: Tony Holmes
Illustrator: Chris Davey
US Price: $20.95
UK Price: £14.99
Publisher: Osprey Publishing
Publish Date: April 27, 2004
Details: 128 pages; ISBN: 1841767840
Review Copyright © 2004 by Rodger Kelly
Page Created 11 May, 2004
Last updated 10 May, 2004
Back to HyperScale Main Page
Back to Reviews Page