USAF F-4 Phantom II Mig Killers 1965 – 68 by Peter Davies is the latest addition to Osprey's ever expanding Combat Aircraft series.
The book begins at the period of the withdrawal of the F-100 Super Sabre from escort duties and the introduction of the then new F-4 Phantom. The evolution of tactics and the use of missiles set the scene for the later chapters where one -on-one encounters with aircraft of the Vietnamese People's Air Force are described by the USAF pilots involved.
It comprises five chapters:
First Fights
BOLO and beyond
Gunfighting
May Massacre
F-4D and the AIM-4D
Four appendices round it all out. The first one is a list of all the kills achieved by F-4 flying USAF members between 10 July 1965 and 14 February – 59 in all. The appendix also provides information on the serials of the F-4 (where known) involved, the crew names, the weapon used to achieve the kill, and the callsign of the aircraft. This inclusion of the callsign is indicative of the level of research undertaken by the author.
The second appendix provides captions to the 28 colour profiles featured within the pages and on the back cover. These captions are very detailed and include the facts surrounding the shoot down as well as the ultimate fate of the aircraft.
Appendix three provides captions but these are to the 16 period photographs included in the colour section. These captions are equally well researched and detailed.
The final appendix contains 1/96 scale line drawings of the F-4C on two pages.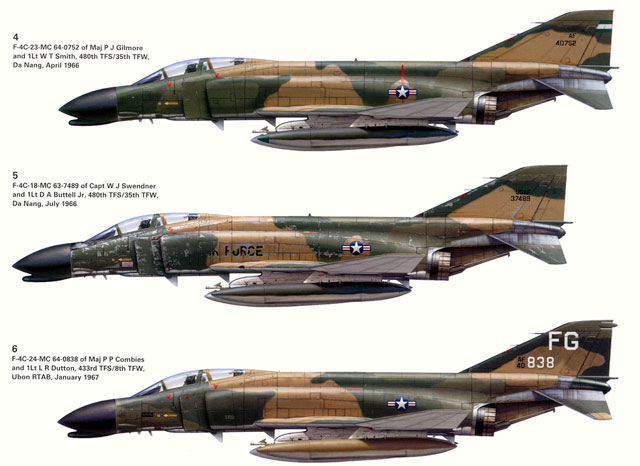 The 28 colour profiles have been provided by Jim Laurier. Two of them are in the early grey and white scheme first worn by USAF F-4s, with the rest in the South East Asia (SEA) camouflage scheme of two greens and a tan over light grey undersurfaces. Whilst the SEA scheme is arguably drab Laurier has portrayed them accurately and they compare well with photographs of their one-to-one counterparts.
All up, a very well researched and excellently presented book that will provide you with a full and very complete picture of the early years of air war over Vietnam from USAF eyes. From a modeller's viewpoint, it doesn't help you with walk around type photos. It does however help you understand the what, why, where and when for fans of the F-4 Phantom.
Recommended.
USAF F-4 Phantom II MiG Killers 1965–68




(Combat Aircraft 45)

Author: Peter E. Davies
Illustrator: Jim Laurier
UK Price: £12.99
Publisher: Osprey Publishing
Publish Date: May 25, 2004
Details: 96 pages; ISBN: 1841766569
Review Copyright © 2004 by Rodger Kelly
Page Created 16 March, 2004
Last updated 08 June, 2004
Back to HyperScale Main Page
Back to Reviews Page