S u m m a r y

Title, Author and Publisher:
Warbirds Alive - the Top 25 Flyable Historic Military Aircraft
by Paul Coggan

Midland Publications
Media:
Hard Cover; 208 x 215mm; 128 pages plus covers
Price:
Available for GBP£1UK £17.99 from Ian Allan
Review Type:
First Read
Advantages:
Great coverage of flyable warbirds; excellent photos; details in the cockpit and under the cowl revealed
Disadvantages:
Recommendation:
Recommended
Reviewed by Rodger Kelly
As the title suggests, this book covers the top 25 flyable historic military aircraft in the world today but it is more than that. It not only gives you a complete and detailed coverage of the chosen aircraft, the 39 page introduction also gives you a background on how the interest in recovering, restoring and flying ex-military aircraft began and the industry that now supports it.
The individual aircraft themselves are diverse and include both machines from the Allied and Axis forces of WWII as well as WW1 and between the wars ones of the RAF.
Each aircraft is devoted its own chapter. Each chapter is between one and six pages with most having three. Some of the coverage is thumb-nail in type but the vast majority tells the whole story of the aircraft from when it first rolled out of the factory, through its service life and abandonment, and of its restoration.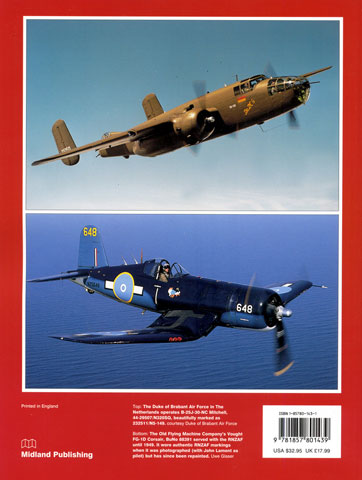 The individual aircraft are:
· Bf 109E-7 WNr 3579 White 14 – N81562
· Bristol Blenheim G-BPIV
· North American Mustang P-51C 42-103831 – N10204 "Ina The Macon Belle"
· Boeing B-29A Superfortress 44-62070 – N529B "FIFI"
· Consolidated B-24 Liberator 44-44052 – N224J "All American"
· Gloster Gladiator I L8032 – G-AMRK
· Bell P-63 Kingcobra 42-69021 – N163FS
· Avro Lancaster B.1 PA474
· Hawker Nimrod 1 S1581 – G-BWWK
· Curtis P-40E Warhawk NZ3009 – ZK-RMH
· Goodyear F2G-1 Super Corsair Bureau Number 88457 – N5588N
· Hawker Hurricane IIa P3351 – ZK-TPL
· Mitsubishi A6M5 Zero 5347 – N46770
· Hawker Sea Hurricane AE977 – N33TF
· Hawker Sea Fury FB.11 VR930
· Bristol F.2B Fighter D8096 – G-AEPH
· Martin B-26 Marauder 40-1464 – N4297J
· Supermarine Spitfire LF.Vb BM597 – G-MKVB
· North American P-51D Mustang 45-11507 – N921
· Goodyear FG-1D Corsair Bureau Number 92471 – N773RD
· Hawker Hind K5414 – G-AENP
· Northrop N9M-B – N9MB
· Republic P-47D Thunderbolt 44-90460 – N9246B
· Curtiss P-40C Warhawk 41-13390 – N2689
It is lavishly illustrated with both black and white and beautifully composed colour photographs. The photographic coverage is more that just the aircraft listed above as the introduction features a whole lot more. Seekers of cockpit and under-the-hatch photos will be delighted with the clarity of the photographs.
The book is 208mm x 215mm in size and comprises of 128 glossy pages between thin cardboard covers.
Thoroughly recommended for modellers seeking detail photos as well as anyone with an interest in historic aircraft.
Recommended
Thanks to Ian Allen Publishing for the review sample
---
Review Copyright © 2004 by Rodger Kelly
This Page Created on 31 May, 2004
Last updated 31 May, 2004
Back to HyperScale Main Page
Back to Reviews Page


Jagdwaffe Volume 4, Section 3 is available online from Squadron.com