Reviewed, Built and Painted
by Andrew Judson
Carter and Crowley is a new name in the figure modelling game to me. However, as soon as I was shown this figure I wanted to start on it straight away.
Inside the box are 13 cream coloured resin parts, all crsiply cast and well detailed.
Parts breakdown is simple, with minimal cleanup prior to assembly. A choice of weapons is provided, being either a sword or a spear. For this you also get the spear tips but no shafts, and an extra arm with the hand in position to grip the spear, or for holding the sword (which has the handle moulded into the hand and a separate blade). In the other hand is a shield that is nicely detailed and textured.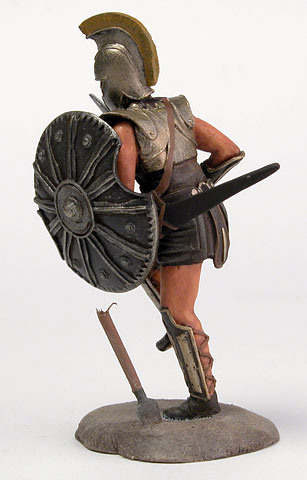 Everything assembled well, but a little extra care was required when removing the casting block from the torso, as it was quite chunky and also needed to be shaped to permit a perfect fit of the legs.
I did deviate slightly from the colour scheme on the box art, but the finished product still looks effective.
The base is included in the kit but I added the broken spear sticking out of the ground for dramatic effect. This is the spear tip that is included in the set.
The figure was entirely hand painted using Vallejo acrylics and Testor's Model Master for the flesh tones. Mig Productions pigment powders were used on the base to achieve that dusty finish.
Recommended.
Thanks to Squadron for the review sample