Reviewed by Glen Porter


HyperScale is proudly supported by Squadron.com
This book begins with the early precursors of the Graf Zeppelin such as the plans to build a seaplane carrier out of the liner Ausonia in 1918, the conversion of the light cruiser Stuttgart and the old armoured cruiser Roon. It then covers the effect of the Treaty of Versailles on the German Navy compared to the Army and the Air force. Mention is made of the comparative size of the German Navy, in the twenties and thirties, with that of Britain, America and Japan and the growing importance of air power in those Navies.

With the rise of Hitler and the signing of the London Naval Treaty came the design phase with visits to Japan and England to study contemporary ships. The building of the hull is described from the laying of the keel to launch and the stop-start fit-out and eventual capture by the Russians. Mention is also made of the report by the Russians of the experimental sinking of the hulk using bombs, shells and torpedos but also of other possible scenarios. A complete description of how the ship was intended to look had it been finished including many drawings and colour artworks.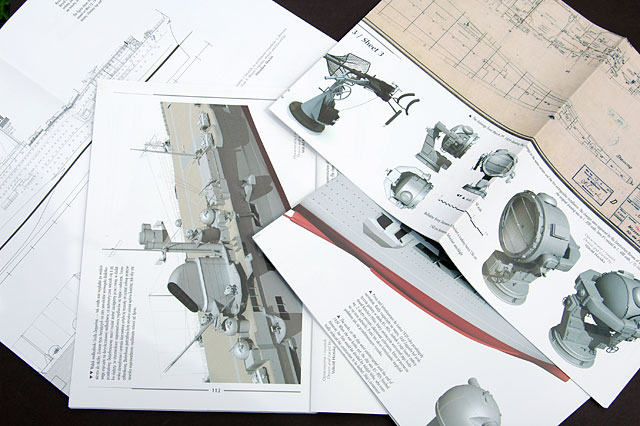 There is a chapter on plans to build several other carriers by converting unfinished cruisers, none of which came to fruition, plus finishing the Italian Aquila or converting several liners.

The technical description of the ship is very complete with many line drawings including all the proposed weapons and machinery. Also, described in detail are the many aircraft built for the carrier including the BF109 T and JU87 C and E plus their eventual use on land.

This book, as is usual from AJ Press, is highly detailed and complete with lots of black and white photos, line drawings and colour artworks of every aspect of the ship. The only disappointment is the lack of good models to use this excellent reference work on. Revell produced their kit quite some time ago and although I havenít actually seen it, I believe it is not all that well done, and in an odd scale, but if someone wants to build a respectable model from it then this is the book they need.
Even if you donít want to build the model this is still a good read and useful reference.

Highly Recommended.