FlexiDisplay
small, medium & large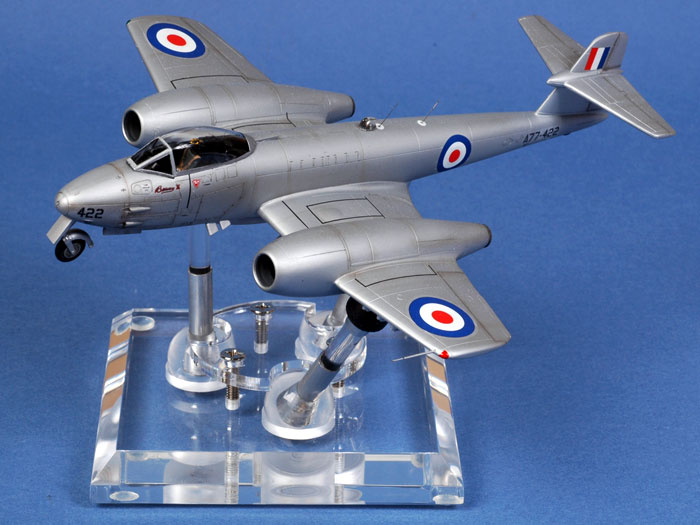 Lost and Found Toys Inc.
HyperScale is proudly supported by
Squadron.com
Three years ago I reviewed a new model display product called FlexiDisplay. It was a clever, timeless concept for displaying a range of model types.
Now, the FlexiDisplay range has expanded to include three different sizes. The original size with 4" display rods has been joined by a smaller model with 2.5" rods, and a 6" large version.
FlexiDisplay is made from clear acrylic material. It comprises a 4" x 4" heavy base, with four clear rods attached to spherical mounts which permit a wide range of positions. The acylic rods are capped with black rubber tips that will help avoid the model slipping off the stand. The base also has non-slip self-adhesive feet.
The stand requires assembly, but construction is very simple. No Allen keys are needed here - just a screwdriver to fix three screws in the acrylic base. I put my three bases together in a total of around three minutes.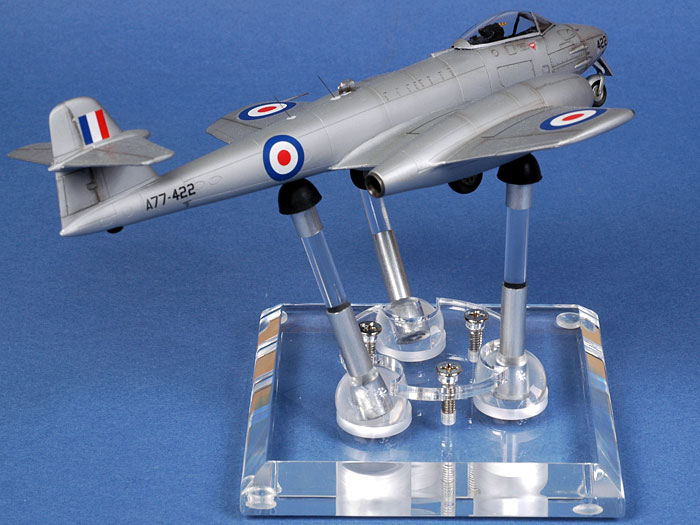 The stand is extremely well finished and looks good on its own. However, it looks even better with a plane on top!
Your model may be posed in level "flight", nose-up, nose down, banking or almost any other angle (subject to the laws of gravity). However, it is important to note that the model is not actually secured to the stand, so care is required when choosing the pose and handling the model on the base.
As well as displaying your model, FlexiDisplay can be a handy extra pair of hands when finishing construction. It is especially handy as a solid base for holding your model upside-down when attaching landing gear, ordnance and other dangly bits.
The 2.5" small stand is pictured at the top of the page, while the photo below shows the medium 4" (front) and 6" large (rear) versions.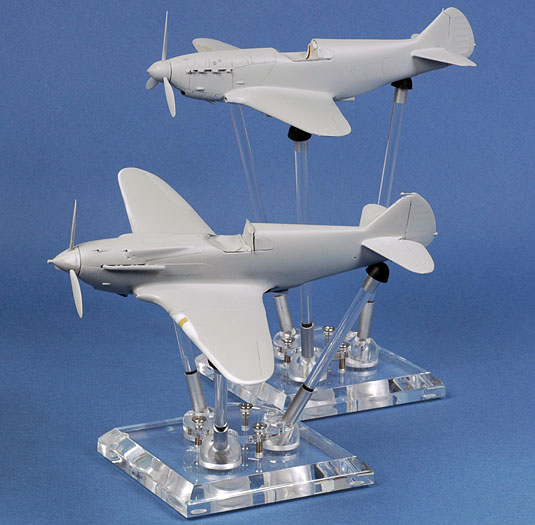 The small stand is ideal for most 1/72 scale models, while the two bigger stands will be suitable for 1/48 scale kits, and even single-seater aircraft in 1/32 scale. In theory, the stands could be used for any type of collectible or kit, but they are particularly appealing as a way to pose your model aircraft in flight.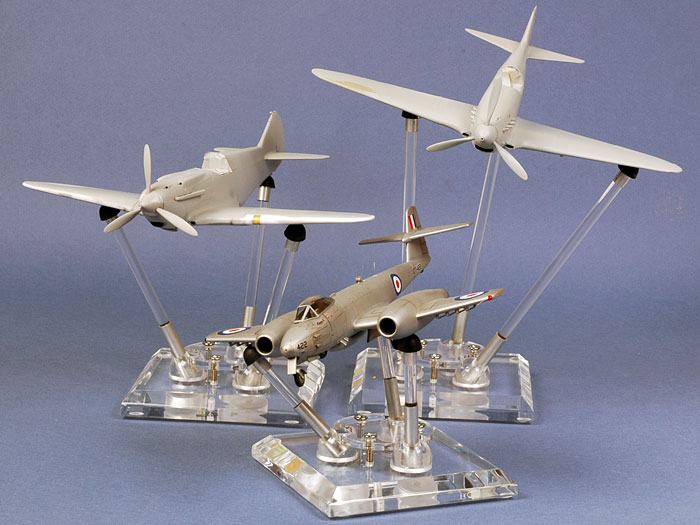 FlexiDisplay is an attractive and innovative way to display your favourite models.
Recommended.
Thanks to Carlos from Lost and Found Toys for the review samples
Footnote:
And the models? They are Xtrakit's 1/72 scale Meteor F.Mk.8, South Front's 1/48 scale LaGG-3 Model 4, and Vector's LaGG-3 Model 66.
You'll be seeing more of these models on HyperScale soon!
---
FlexiDisplay products are available online from the Lost and Found Toys website.
---
Rreview Text and all Images Copyright © 2006 by Brett Green
This Page Created on 19 December, 2006
Last updated 18 December, 2006
Back to HyperScale Main Page